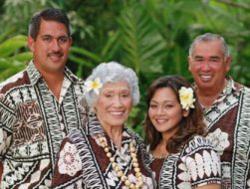 Lihue, Kauai (PRWEB) August 27, 2012
Hawaii based wedding planner Maui'd Forever will suggest going to a luau. Lisa Makaneole, their lead coordinator tells us in a recent interview that "a luau provides everything a traditional reception might and more. The luau's we suggest for our clients provide the food, drink and entertainment without any involved planning. As matter of fact going to a luau is as simple as making dinner reservations"
She suggests "don't do it on your own. With several luau's operating on each Hawaiian Island get advice on which to attend. Besides, by doing it on your own means you are paying retail. Our clients are afforded discounts averaging 10% off the retail price. Maui'd Forever just signed a deal with Smiths Family Luau on the Island of Kauai that not only provides the discount but offers superior service to wedding parties".
Smiths Family Garden Luau also has a wedding location on site and up the Wailua River at the famed Fern Grotto. Kamika Smith, the general manager says "Over 50 years ago, Grandpa started our family business in this sacred Wailua River Valley. We created our tropical paradise to celebrate the Hawaiian spirit of aloha that he loved and lived by. Today, four generations of my family continue to honor that tradition with the most famous of Hawaiian celebrations, the luau. We welcome you to share the traditions of our island home and become part of our 'ohana.
Of course, the heart of any luau is the pa'ina, the feast, and we'll make sure you don't go hungry. Kalua pig roasted in the earthen imu oven. Cousin Gary's secret recipe for teriyaki beef. Ono mahimahi and tasty chicken adobo. Our family bowl of poi (which Grandma insists you try). We'll even get some of you up on stage to try some hula moves as dinner winds down.
Food may be the heart of a luau, but music is the soul. Our Hawaiian ancestors preserved their history by passing down songs and chants called mele. At our luau, we celebrate these traditions, as well as the songs and dances from other cultures that live in our tropical paradise. The lyrical sway of the Hawaiian hula, the colorful precision of the Tahitian drum dances and the fiery emotion of the Samoan fire knife dance all speak deeply of the people who have come to call Hawaii home. We proudly share this rhythm of aloha with you".
That discount is even nicer when a larger group decides to attend. Maui'd Forever will also provide their clients additional assistance in making sure these larger groups are greeted and get special seating. The only drawback to attending a luau is that they start before sunset. This precludes having a wedding at the most popular time, sunset.
Jana Rothenberg another Hawaii based wedding planner from Hawaiian Style Weddings does not see this as a drawback. Jana tells us "the best photographs are had at morning weddings. So with a morning wedding one can have that luau reception without any problem".
Maui'd Forever suggests that one should ask about luau options before making a decision on their wedding plan.