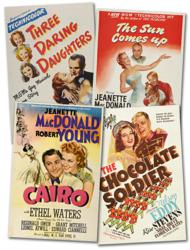 With the release of these four films, there remains only three more MGM Jeanette MacDonald and Nelson Eddy treasures not yet on DVD.
Philadelphia, PA (PRWEB) August 28, 2012
The four movies, never before available in DVD, are offered exclusively from Movies Unlimited and can be purchased individually for under $20 each or together in a special limited-time-only MacDonald & Eddy Exclusive Value Pack of four DVDs. These titles are presented in brand new pristine prints, painstakingly examined by Warner's archival experts to insure a beautiful viewing experience. The new releases are:
The Chocolate Soldier (1941) features Eddy and opera star Rise Stevens as bickering married opera singers. Eddy is jealous of Stevens and she is wary of his indiscretions. Disguising himself as a Russian guardsman to test her, Eddy soon discovers where their true love lies.  Songs in this comic operetta include "Come, Come, I Love You Only" and "My Hero."
In 1942's Cairo, music, wartime thrills and comedy make for entertaining cinematic bedfellows. Miss MacDonald plays a wisecracking movie star who hires Robert Young to be her butler while she's making a movie in London. However, Young turns out to be a newspaper reporter who suspects his new employer is a Nazi spy. Ethel Waters, Reginald Owen, Dooley Wilson (of Casablanca fame) also star;  musical numbers include "Avalon," "Waiting for the Robert E. Lee" and "Home Sweet Home."
The Sun Comes Up (1948) stars Jeanette MacDonald along with legendary cinematic collie Lassie in a fine family film, which finds the singing actress seeking solace after her son dies. She finds it with a young orphan boy and the beloved canine while on retreat in a country cabin. Lloyd Nolan, Claude Jarman, Jr. and Percy Kilbride ("Pa Kettle") also star; songs include "If You Were Mine" and "Un Bel Di" from Puccini's Madama Butterfly.
And in Three Daring Daughters (1948), Ms. MacDonald plays the divorced magazine editor mother of three girls (one of whom is played by Jane Powell) who is overstressed, needing a vacation. Her daughters decide to see her off on an ocean voyage, but also have the idea that if she's reunited with her ex-hubby it will help her state of mind. Featuring Spanish conductor/pianist Jose Iturbi, the film offers such songs as "You Made Me Love You," "Route 66" and "Where There's Love."
Slated for release on September 25, 2012 from the vast library of MGM classics, these four Nelson Eddy and Jeanette MacDonald films are produced by the Warner Archive Collection, in conjunction with Movies Unlimited in Philadelphia, PA
Movies Unlimited is one of the world's oldest and most reliable video retailers of DVD and Blu-ray titles, specializing in hard-to-find movie classics. The titles can be ordered through their website at http://www.moviesunlimited.com or by calling 1-800-4-MOVIES. The Philadelphia-based company also publishes their annual encyclopedic 800-page Movies Unlimited DVD Catalog.
For more information, please contact Irv Slifkin at (215) 637-4444, ext. 6113 or irv(at)moviesunlimited(dot)com