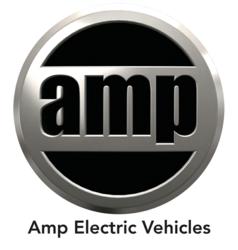 With the ever-rising diesel prices, powering heavy-duty commercial vehicles to be all-electric is a solution for today. Navistar leads the way in this effort, and road-ready, electric fleet vehicles are a great fit for heavy duty urban delivery vehicles.
Cincinnati, OH (PRWEB) August 27, 2012
AMP Electric Vehicles (OTCBB and OTCQB: AMPD), an electric drive motor vehicle manufacturer, and Navistar International Corporation (NYSE: NAV), a holding company whose wholly owned subsidiaries and affiliates produce commercial and military trucks, jointly announced today the successful initial testing of an all-electric 1,000 cubic foot step van as the first fruits of their development agreement.
Electric trucks reduce fuel consumption, noise pollution and CO2 emissions and are well suited for the stop and start nature of urban delivery vehicles. In fact, a typical 1,000 cubic foot delivery truck may make over 200 stops per day and still travel under 100 miles.
The electric vehicles built under this agreement are designed for 100 miles of range on a single charge and have a maximum gross vehicle weight of 19,500 lbs. The electrification architecture is based on the well proven AMP platform, and has been engineered to be suitable for both re-powering of existing diesel vehicles in a fleet as well as new vehicles that may be ordered by fleets in the future.
"With the ever-rising diesel prices, powering heavy-duty commercial vehicles to be all-electric is a solution for today," said Steve Burns, AMP CEO. "Navistar leads the way in this effort, and road-ready, electric fleet vehicles like the ones we are designing and producing on this project are a great fit for heavy duty urban delivery vehicles."
About Navistar
Navistar International Corporation (NYSE: NAV) is a holding company whose subsidiaries and affiliates produce International® brand commercial and military trucks, MaxxForce® brand diesel engines, IC Bus™ brand school and commercial buses, and Navistar RV brands of recreational vehicles. The company also provides truck and diesel engine service parts. Another affiliate offers financing services. Additional information is available at http://www.Navistar.com/newsroom.
Forward-Looking Statement
Information provided and statements contained in this report that are not purely historical are forward-looking statements within the meaning of Section 27A of the Securities Act of 1933, as amended, Section 21E of the Securities Exchange Act of 1934, as amended, and the Private Securities Litigation Reform Act of 1995. Such forward-looking statements only speak as of the date of this report and the company assumes no obligation to update the information included in this report. Such forward-looking statements include information concerning our possible or assumed future results of operations, including descriptions of our business strategy. These statements often include words such as "believe," "expect," "anticipate," "intend," "plan," "estimate," or similar expressions. These statements are not guarantees of performance or results and they involve risks, uncertainties, and assumptions. For a further description of these factors, see Item 1A, Risk Factors of our Form 10-K for the fiscal year ended October 31, 2010, which was filed on December 21, 2010. Although we believe that these forward-looking statements are based on reasonable assumptions, there are many factors that could affect our actual financial results or results of operations and could cause actual results to differ materially from those in the forward-looking statements. All future written and oral forward-looking statements by us or persons acting on our behalf are expressly qualified in their entirety by the cautionary statements contained or referred to above. Except for our ongoing obligations to disclose material information as required by the federal securities laws, we do not have any obligations or intention to release publicly any revisions to any forward-looking statements to reflect events or circumstances in the future or to reflect the occurrence of unanticipated events.
About AMP Holding Inc.
AMP is a plug-in electric drive motor vehicle manufacturer, founded in 2007 by entrepreneurs who have created several hi-tech companies. The AMP team is comprised of top automotive industry veterans and business executives. AMP recently released two all electric demonstration models: the AMP MLe, based on the Mercedes ML 350, and the AMP GCE, based on the Jeep Grand Cherokee, both qualifying for the federal tax credit for EVs. In the commercial area, the company also concentrates on the electrification of fleet vehicles, including heavy-duty trucks and vans. Over the past several years, the company's vehicle electrification technology has provided new solutions to America's energy demands. For additional information visit http://www.ampelectricvehicles.com
Forward-Looking Statements
Certain statements contained in this press release may constitute "forward-looking statements". Forward-looking statements provide current expectations of future events based on certain assumptions and include any statement that does not directly relate to any historical or current fact. Actual results may differ materially from those indicated by such forward-looking statements as a result of various important factors as disclosed in our filings with the Securities and Exchange Commission located at their website (http://www.sec.gov). In addition to these factors, actual future performance, outcomes, and results may differ materially because of more general factors including (without limitation) general industry and market conditions and growth rates, economic conditions, and governmental and public policy changes. The forward-looking statements included in this press release represent the Company's views as of the date of this press release and these views could change. However, while the Company may elect to update these forward-looking statements at some point in the future, the Company specifically disclaims any obligation to do so. These forward-looking statements should not be relied upon as representing the Company's views as of any date subsequent to the date of the press release.
SOURCE: AMP Holding Inc.
INFORMATION:
INFORMATION: Media: Mike Dektas, 513-266-3590 mike(at)ampelectricvehicles(dot)com