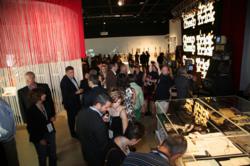 "The best music exhibit I've seen. Blows away the Rock & Roll Hall of Fame."
Rockford, IL (PRWEB) August 29, 2012
Hailed out of the gate as the world's finest guitar and music memorabilia exhibit, Rick's Picks: A Lifelong Affair With Guitars & Music opened to a sold-out crowd of 350 visitors August 10, 2012 at the Burpee Museum in Nielsen's hometown of Rockford, Illinois.
In the following weeks, hundreds more have visited from Rockford, Chicago, Wisconsin, Michigan, Indiana and as far away as Sweden. Their parting comments have been extraordinarily positive:
"A must see."
"The best music exhibit I've seen. Blows away the Rock & Roll Hall of Fame."
"Better than Seattle's Music Experience."
"It's awesome. I love the drawers you pull out and explore."
"Jaw-dropping awesome."
"I loved the videos!"
"I'll be back many times."
Rick's Picks presents a state-of-the-art, video-enhanced experience that's gives visitors an, "up close and personal" view into the public, private and even the family life of one of rock music's most legendary figures.
In his lifetime, Nielsen has collected more than 2,000 guitars. An eye-popping sample of his current collection as well as guitars loaned by F.O.R. (Friends of Rick) such as Dave Grohl of Foo Fighters and Nirvana, Slash of Guns N' Roses and Brian May of Queen are currently on display. New F.O.R. instruments are rumored to be on the way and soon to be cycled into the exhibit.
In addition, curators catalogued more than 5000 pieces of rock & roll memorabilia, roughly 3000 of which are currently on the walls, in the cabinets and in the drawers of Rick's Picks. Visitors enjoy an exciting environment enhanced by engaging and informative video, including a 30-minute biopic "Rickumentary" movie featuring appearances by Rick and his family as well as many F.O.R.s.
A concert stage features vintage equipment and historic concert footage, lending a true rock & roll feel to the hall. Large projected images and a rich audio track set the tone for an engaging and one-of-a-kind rock & roll experience. Carefully designed lighting pulses throughout the room, enhancing the overall look and feel.
The exhibit includes 78 guitars, 100 show posters, 55 platinum and gold records, 170 Rick-designed, unique guitar picks and 60 F.O.R. picks, 115 pieces of fan art sent from fans around the world, 200 pins - collected by Rick and worn on stage, 50 pairs of sunglasses from Rick's unique collection, 16 Rick-designed, custom-made sweaters as well as thirteen areas with more than 2000 pieces of memorabilia: scores of handwritten song concepts and lyrics, notes, photos, tickets, awards, backstage passes, etc. and many letters written home while on tour.
Rick's Picks is at Burpee Museum of Natural History in Rockford, Illinois now through April 2013. Burpee is located at 737 North Main Street, Rockford, Illinois, 61103. For more information, call 815-965-3433.
Fans are encouraged to follow the exhibit on its Facebook page, Twitter, or its website, which is currently in the process of being re-designed. An exciting new, e commerce-enabled site including for-sale merchandise will be launched within days.
Post-Rockford, officials intend to send the exhibit on an worldwide tour. Corporations and Organizations interested in national and international sponsorship of the exhibit are invited to visit the Rick's Picks Sponsorship page, or to contact Rick's Picks Director of National Sponsorship, Jennie Walker at jwalker(at)rickspickslive(dot)com for more information. Many levels of collaboration are available. Current exhibit sponsors include Illinois. Mile After Magnificent Mile., BMO Harris Bank and The Rockford Area Convention & Visitors Bureau, along with other supportive Rockford businesses and organizations.
A celebratory concert, Rick Nielsen & Friends is being planned for January, 2013.
About Rick's Picks
It's Guitars. It's Rick. It's Music History. It's a Fundraiser. From Rockford, Illinois' skating rinks to Tokyo's Budokan, Rick's Picks tells the 40-year story of one of the hardest-working stars in Rock & Roll. As one would expect, Rick has more stories that his five neck has strings. Rick's Picks also is a fundraiser for Rick Nielsen's favorite hometown museum, the Burpee Museum of Natural History. For more information, visit http://www.rickspickslive.com or contact Anne Boccignone, 815-742-0110, aboccignone(at)grahamspencer(dot)com.
About Burpee Museum of Natural History
Since 1942, Burpee Museum of Natural History has inspired people to engage in a lifetime of learning about the natural world. Burpee Museum of Natural History is home to 66-million year old juvenile T.rex, Jane, as well as a number of other interactive and educational exhibits. For more information, or to see a schedule of events, please visit http://www.burpee.org.
About Rick Nielsen & Cheap Trick
When Cheap Trick burst onto the national music scene in the 1970s, it broke new ground with a punkish, hard-edged brand of literate garage rock that was the perfect antidote to what ailed weary FM radio listeners worldwide. The band's uniquely midwestern sensibilities have been deftly recorded in 28 albums and laid bare in thousands upon thousands of performances worldwide. With walls of gold and platinum records to prove their enduring success, Cheap Trick and its pick-flinging, checkerboard-bedecked dynamo Rick Nielsen have never stopped touring, much to the delight of one of rock history's most loyal fan bases. Rick Nielsen, and bandmates Robin Zander and Tom Petersson can be seen touring with Aerosmith in major cities across north America this summer. The band and the tour were named among "the summer's hottest" by Rolling Stone magazine.