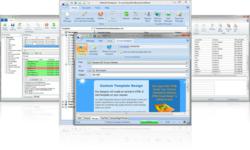 Alex Markov, CEO: We've been working hard and we can proudly say that our G-Lock EasyMail newsletter software is far ahead from its competitors in features, functionality, and reliability.
Apex, NC (PRWEB) August 24, 2012
Any company who bought an email sender program to help spread their campaign, newsletter or general information to the masses but was unsatisfied with the software now has a great alternative. G-Lock Software is offering their EasyMail Business Edition Software to anyone who had previously purchased cheap software. While business owners will still have to buy the EasyMail Business Edition software, they will be able to do so at a discounted price. Anyone who has proof of buying a low quality software will receive the EasyMail Business Edition software for lower than the original price of $349. G-Lock's discount will credit companies the money they spent on their low quality software, guaranteeing a discount off the EasyMail package. Potential G-Lock EasyMail users can learn more about G-Lock Software's deal at http://www.glocksoft.com/easymail/fantastic-deal-from-glock-software/.
G-Lock is offering this deal in order to provide high quality software to all businesses. The need for email software to be professional, easy to use, able to cope with large mailing lists and able to satisfy increasing mailing lists directly affects how a business is run and how well it works. Alex Markov, the CEO of G-Lock Software, says: "We've been working hard and we can proudly say that our G-Lock EasyMail newsletter software is far ahead from its competitors in features, functionality, and reliability."
What gives G-Lock EasyMail an edge over its competitors are the unique features it offers. The G-Lock EasyMail Business package is able to support large, and growing, mailing lists. Because of this ability to handle large databases, the system is always responsive and won't stall or leave its users hanging. Additionally, businesses aren't required to spend more money on a new system when their mailing list gets too big.
Additional features that are exclusive to the G-Lock EasyMail package include bounced management, the ability to support large attachments as well as unique files to different recipients, and the ability to support multiple workplaces. G-Lock prides itself on having "cutting-edge software, where businesses can maintain their in-house mailing lists safely and securely."
G-Lock EasyMail is an in-house bulk email program for businesses, organizations or individuals who need to get their message out to a mass audience in a secure manner. Unlike other bulk email programs, G-Lock is made specifically with a growing mailing list in mind. In particular, this software allows businesses to send mass emails, campaign information or newsletters fast. In addition to large mailing lists, G-Lock EasyMail software also allows easier marketing for third parties and helps get traffic to websites.
ABOUT G-LOCK SOFTWARE
G-Lock Software develops software for different programming environments. Currently, the company's emphasis is on tools and applications in the field of SEO and email marketing. Among its major products are G-Lock EasyMail bulk email sender and newsletter software, G-Lock Analytics real time email tracking system, Advanced Email Verifier email list cleaner and verification software, G-Lock Email Processor advanced email processing and parsing software, Fast Directory Submitter directory submission tool for creating permanent one-way backlinks, and Fast Blog Finder blog commenting software. For more information, please visit http://www.glocksoft.com/.