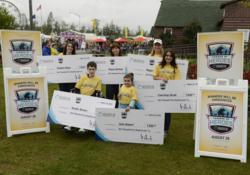 Anchorage, Alaska (PRWEB) August 27, 2012
Alaska Communications announced its 2012 Summer of Heroes program honorees yesterday at the Alaska State Fair in Palmer. Six Alaskan youth heroes received $1,500 scholarships and were honored during a special ceremony that was emceed by KTUU-TV news anchor Corey Allen-Young. The event also included presentations by Marla Thompson, vice president of consumer sales and service at Alaska Communications, and Alana Humphrey, CEO at Boys & Girls Clubs - Alaska.
Alaska Communications hosted the young heroes and their families for a welcome banquet Saturday, Aug. 25, followed by a day at the Alaska State Fair in Palmer on Sunday. The six recipients – five from the general program and one from the employee program – of this year's Summer of Heroes scholarships, ranging from ages 12 to 18, were selected from more than 60 nominations received from communities across the state.
The 2012 Summer of Heroes program is a partnership between Alaska Communications and Boys & Girls Clubs – Alaska to support youth development programs throughout the state and recognize young Alaskans who are making a difference in their local communities. The 2012 heroes are:

Keefer Brown, 14, Wasilla – Currently in training to become the next Jacque Cousteau, Keefer spends his summers selling shell-decorated candles to gather funds for the Alaska SeaLife Center (ASLC). His passion for saving harbor seals motivated him to raise more than $2,300 to support the sea animal rescue program. Last year Keefer had the honor of naming the ASLC's first new seal pup, which he dubbed Kordelia, which means "jewel of the sea."
Regan Fitzgerald, 18, Anchorage – Regan advocates for children's rights by volunteering her time and talents to many local, national and international organizations. After learning that Alaska's foster children often carry all of their possessions in pillowcases because they move from home to home, she created the Pillow Pals program and collected toys, school supplies and hygiene supplies for them.
Stacey Garbett, 18, of Fairbanks – Stacey is a Girl Scout who knows what it means to be prepared. After learning about challenges faced by soldiers with post-traumatic stress disorder, she launched the Home for Hero project to ease the transition for returning veterans. At Fort Wainwright where her mother works, Stacey created hospitality suites stocked with comfort items and handwritten cards of encouragement, allowing veterans to focus on their treatment in relaxing environments.
Julia Gebert (employee hero), 12, Anchorage – Though Julia was born with an inoperable brain tumor that caused blindness in both eyes, health challenges didn't stop her from playing the violin, learning how to ski cross-country or volunteering in the community. These days, she's raising awareness for cause-related organizations like the American Cancer Society and National Federation of the Blind, and telling the world to live life to the fullest!
Shaylee Rizzo, 17, of Kenai – When Shaylee learned that hundreds of vehicle collisions with moose were injuring people and threatening wildlife populations, she wrote and illustrated a children's book about an orphaned moose named Missy. She even began visiting elementary schools dressed as Missy the Moose, delivering classroom presentations that empower Alaskan kids to make our roads safer, along the way.
Courtney Stroh, 16, Kenai – Armed with the memory of carefree days playing along the Kenai coastline, Courtney took a stand against pollution caused by dip net fishing in her community. She singlehandedly launched a public awareness campaign to educate environment and government groups, fisherman and residents about how to prevent fish waste buildup on the beaches, and worked to enlist support from organizations such as the Kenai City Council and Boys & Girls Clubs – Alaska.
"Alaska Communications is committed to helping youth in Alaska succeed and we are proud to recognize those who are giving back," said Heather Cavanaugh, director of corporate communications at Alaska Communications. "We launched the Summer of Heroes program with Boys & Girls Clubs – Alaska to build awareness for programs that provide positive environments and experiences for young people, but we had no idea how many inspiring stories we would hear along the way. We are proud to be part of a community with so many outstanding individuals."
Commencing in June, the Summer of Heroes program recognizes Alaska youth for their outstanding work, volunteer efforts and commitment to their communities. Alaska Communications and Boys & Girls Clubs – Alaska collected nominations and spread the word about the importance of giving back. Alaska Communications also pledged to donate $25 to the Boys & Girls Clubs – Alaska for every phone sold during the nomination period, up to $15,000. The final tally and donation announcement will take place at Boys & Girls Clubs – Alaska's 30th Annual Auction Gala on Sept. 15.
For full biographies of each Summer of Heroes scholarship recipient and more information about Alaska Communications' work in the community, visit http://www.alaskacommunications.com/summerofheroes. Stay up-to-date on Summer of Heroes initiatives and events by connecting with Alaska Communications on Facebook and Twitter.
About Alaska Communications
Headquartered in Anchorage, Alaska Communications is a leading provider of high-speed wireless, mobile broadband, Internet, local, long-distance and advanced broadband solutions for businesses and consumers in Alaska. The Alaska Communications network includes advanced broadband and voice networks and the most diverse undersea fiber optic system connecting Alaska to the contiguous United States. For more information, visit http://www.alaskacommunications.com or http://www.alsk.com.
Media Contacts:
Heather Cavanaugh
Alaska Communications
Heather.Cavanaugh(at)acsalaska(dot)com
907-564-7722
Jeannie Horner
Allison+Partners
summerofheroes(at)allisonpr(dot)com
619-533-7977