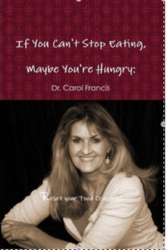 Optimal Health can be combined with Health Coaching, nutritional food and healthy marriages.
Los Angeles, CA (PRWEB) August 27, 2012
Weight Loss and Optimal Health Dr. Carol Francis Radio Talk Show Monday August 27, 2012 live at 10:00AM PCT
Dr. Carol Francis offers a very personal look into why one married couple decided to become independent Health Coaches to help others with weight and health issues. Nancy McDowell is a Registered Nurse and her husband Dave is a retired Police Sergeant. Together, they changed their lives and now offer a chance for others to optimize their health. Also joining the program will be Steve and Jenny Berg who are Health Coach Mentors.
Dave & Nancy McDowell explain their personal journey toward optimal health.
Their journey has led to a growing passion to help others not with "just another diet" but with achieving optimal health through a truly attainable lifestyle change.
Steve and Jenny Berg with Dave and Nancy McDowell discuss also how they coach others by personalizing their coaching to include authentic building of relationships with their clients. Both Dave and Nancy appreciate that "The "why" for each new client they meet is just as important as the "how" of any program," Nancy explains. Wanting to obtain optimal health is a worthy goal but as Health Coaches, Dave and Nancy help their clients go deeper to discover their unique reasons for wanting to begin their journey to a long term lifestyle change.
Dave McDowell explains, "My wife and I now enjoy energetic quality time with our 4 year old grandson Ethan. I am also thankful for being able to obtain a level of physical fitness that will allow many more humanitarian aid trips to Africa. Each trip yields more progress in providing a safer environment for thousands of precious children in Sudan who have survived the atrocities of Genocide in Darfur. Now I can be sure I have the health and stamina to continue my work in Sudan."
As Dave and Nancy will share, they have both found that the lifestyle path they have chosen works well for the busy person who may travel often or work long shifts as part of their careers.
Dave & Nancy will share why they are privileged to be individual Health Coaches at no cost and why they believe they are "paying forward" the gift that was given to them. They are passionate about sharing why building trust through long term relationships with each client allows those clients to thrive when it comes to reaching their personal healthy lifestyle goals. The path to optimal health that Dave and Nancy will be discussing involves teamwork, fun and a very exciting transformation that friends and family will notice!
Dr. Carol Francis at drcarolfrancis.com 310-543-1824
Nancy McDowell, Registered Nurse. Cell Phone: 541-390-2273.
Email: nmcdowellrn(at)gmail(dot)com
Dave McDowell, retired Police Sergeant. Cell Phone: 541-390-2891.
Email: sgtdave47(at)gmail(dot)com
Website: http://www.nancymcdowell.tsfl.com
Link for on-demand at http://www.blogtalkradio.com/dr-carol-francis/2012/08/27/weight-loss-optimal-health-coaches-nancy-dave-mcdowell