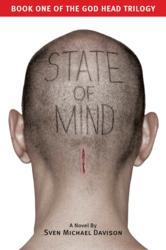 There's forbidden fruit in every garden of Eden
Los Angeles, CA (PRWEB) August 27, 2012
At the beginning of the month The Verge uploaded a documentary on biohackers and grinders, which follows several individuals who attempt and succeed in connecting their bodies with technology. Wired Magazine picked up on the story and featured it on their website on August 20th. In the recently published book "State of Mind" by Sven Michael Davison, he details a world where upgrading the human body is the norm. He flash-forwards eighteen years from now to show us what an enhanced society could look like and how technology will effect our daily lives.
"The Verge's story is a fascinating window into a niche group of people who have no fear or reservation about augmenting their bodies with technology, but for the rest of us there is need for hesitation," says author Sven Davison. "There's forbidden fruit in every garden of Eden."
Davison created a satirical faux infomercial to advertise the P-Chip, the main plot device in his cyber-punk thriller. "The idea is to draw you in with humor, but if you listen to what the models are saying you realize this is a pretty creepy product," states Davison.
Your thoughts are not your own… Los Angeles 2030: You can eat what you want and never gain weight. You can also call a friend while surfing the web without a phone or computer. All this and more will be yours following the simple installation of a P-Chip in your brain.
After botching the arrest of the governor's son, Commander Jake Travissi is banned from law enforcement. The workaholic homicide cop spirals into depression...until he is given a rare second chance. The price? Volunteer for chip implantation and join Homeland Security's experimental Enhanced Unit.
"State of Union," the sequel to "State of Mind," will be released in the late fall of this year. The third installment of the "God Head Trilogy" will be published in the early spring of 2013. That title will be announced around the time "State of Union" debuts.
"State of Mind" is a winner of two Dan Poynter's Global eBook Awards.
"A thoughtfully composed piece of cyberpunk that will please readers of both science fiction and noir." – Kirkus Reviews
"Davison's Los Angeles is pulpy- vibrant, an unforgettable wasteland. State of Mind is the world of the near future, the horrible synthesis of human desire and the technology to make it a reality." – ForeWord Reviews
"An intelligent, thought provoking, cinematic post-cyberpunk thriller and a great read."

Antony Jones, Sci-Fi Book
"This book deserves to go directly to the 'Top Ten Best Sellers List.'" – Deb Shunamon, Reader Views.
"Sven has told a brilliantly descriptive tale that I will not soon forget. I find myself looking forward to what he has up his sleeve in regards to future works." – Jennifer Shaw, Book Noise 411
"It's a clever and pacey affair that never gets bogged down in nuance… it neatly covers the line between edgy enough for the cyberpunk fan and readable enough for the mere fiction fan." – Andrew Ian Dodge
"There are some crazy twists and turns in this novel and the end? One word… WOW. It totally blew me away. There are plenty of shocking, hanging on the edge of my seats moments." – Alice Bola, girls just reading
"Brutally realistic, chillingly plausible, this novel manages to be both thought provoking and highly entertaining. A must read!" – Wenj, black lagoon reviews
"State of Mind" is a tense, thoughtful and well-paced sci-fi tale drawn from Davison's life, imagination and his experiences with technological innovation. – Pod Cast Interview by Bryan Reesman
Davison lives with his wife and son in the Los Angeles area. "State of Mind" is his second novel.
Don't miss Davison's third novel "Dreams, Faith & Ammunition" a blend of Historical Fiction and memoir. Two men, three timelines, one location; Dreams, Faith & Ammunition is a novel about seeking the Promised Land. In the nineteenth century, one man seeks it literally, first by following Joseph Smith, and then James Strang to build a Kingdom of God on earth. In the twentieth century, another man envisions the Promised Land as the rewards and lifestyle he will achieve once he finishes his great American novel.
For more information visit http://www.stateofmindbook.com
STATE OF MIND
By Sven Michael Davison
Published by Bedouin Press
$25.95 • (389 pages) • 6 x 9
Hardcover with dust jacket • ISBN: 978-0-9666149-2-3
eBook $2.99
Publication date: 2011