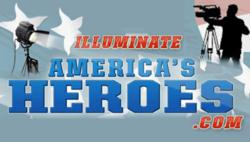 "Rick Reed shares with the Foundation a passionate desire to help find & illuminate the inspirational true stories of America's great heroes."
McLean, VA (PRWEB) August 28, 2012
David C. Jamison, Executive Director and founding Board Member of the Foundation To Illuminate America's Heroes stated today, "The Foundation is proud to announce that renowned Washington, DC-based media consultant and strategist, Rick Reed, has joined the International Advisory Board of the Foundation to help us develop films and documentaries on true American heroes."
Rick Reed is an award-winning issues advocacy consultant, recognized as one of the most creative and successful media consultants in the field today. He has created and produced some of the most well-known and effective media campaigns of the past 30 years. Rick Reed Media, Inc., creates and implements communication strategies that make a difference: producing television, radio, print advertising that cuts through the clutter.
"Rick Reed shares with the rest of the Foundation's International Advisory Board a passionate desire to help find and illuminate the inspiring true stories of America's great heroes," said Jamison, "and he brings a wealth of experience and expertise to our mission."
The Foundation's first featured story concerns the life of legendary Hollywood producer and great American hero, Merian C. Cooper, named by the Foundation as "the Greatest American Hero of the Twentieth Century":
http://www.prweb.com/releases/heroes/Kosciuszko/prweb9130211.htm. His heroic and inspirational true life story is beyond belief. He literally repaid America's greatest debt. NEWSMAX Media did a story (in the link here) about Cooper and it is the Foundation's goal to produce a major Hollywood movie to illuminate his heroic life to America and the world.http://www.newsmax.com/TheWire/Merian-Cooper-Foundation-Illuminate/2012/07/02/id/444241
"Rick Reed joins a group of distinguished American and Polish experts," said Jamison, "The International Advisory Board is comprised of experts in American and Polish history, aviation, film and production, all of whom share a passion for the story of Merian C. Cooper and the group of American and Polish aviators who formed the famed Kosciuszko Squadron to aid Poland in the Polish-Bolshevik War of 1919-1921. This outstanding and true story of their risk for freedom in remembrance of the personal sacrifice of two Polish officers, Tadeusz Kosciuszko and Kazimierz Pulaski, who came to America's aid during the Revolutionary War, is one that simply must be made into a feature Hollywood film for the world to see."
"It is the Foundation's intention and mission to find and illuminate the stories of true American heroes, past and present, and to produce films and television documentaries for the History Channel, Military Channel, PBS and other outlets.", said Jamison, "We want to inspire present and future generations about true heroism."
Other members of the International Advisory Board include:
** Anthony J. Bajdek, Chairman, is President/Founder, American Association of the Friends of Kosciuszko at West Point; National Vice President for American Affairs, Polish American Congress; President/Founder, Polish American Congress of New Hampshire; and Associate Dean (ret.) and Senior Lecturer in History, Northeastern University.
** James V. D'Arc, Ph.D., is Curator of the BYU Motion Picture Archive and the Arts and Communications Archive, L. Tom Perry Special Collections at Brigham Young University. Dr. D'Arc has taught motion picture history for over 30 years. The Merian C. Cooper Papers were acquired for BYU by Dr. D'Arc in 1986 and contain correspondance, scripts, unrealized projects, scrapbooks and over 800 photographs spanning the length of Cooper's amazing career. The Cooper Papers have been used for many articles, television documentaries and the basis for Mark Vaz's biography of General Cooper, Living Dangerously (New York: Villard, 2005)
** Dr. Michael Peszke, Emeritus Professor of Psychiatry, University of Connecticut, Consultant to the Kosciuszko Squadron Exhibit at the New England Air Museum which was supported by the Polish-American community, and a Historian who has published numerous works on Polish Military history, including the Kosciuszko Squadron.
** Michael Orzachowski , a journalist and writer in Poland. He is the author of the screenplay "Wings of Freedom-1920", a screenplay about the true story of Merian C. Cooper and the Kosciuszko Squadron in the Polish-Soviet War of 1919-1920. His screenplay received a scholarship and is supported and backed by the Polish Film Institute in Poland.
** Mr. Pawel Biel is a Polish-American Cinematographer based out of New York City. He has worked on a number of films, documentaries and commercials for clients including Warner Brothers, the History Channel, SYFY, BRAVO, BBC, NBC and ABC. The story of Marian C. Cooper and the Kosciuszko Squadron has greatly influenced and inspired Mr. Biel's work and life. He is originally from Krakow.
** Mr. Tomasz Jegierski is the founder and CEO of FT Films in Poland. He and his company specialize in the production and distribution of true historical films. FT Films is recently doing promotion and distribution of "Five Days of War" about the war in the Republic of Georgia, staring Val Kilmer, Dean Cain and Andy Garcia. The film, directed by Renny Harlin, will have a Polish premiere at the Krakow Film Festival on April 14, 2012.
** Igor I. Sikorsky, Jr., Esq. , son of aviation pioneer and Founder of Sikorsky Aircraft, Igor I. Sikorsky, has been active in aviation history both as a lecturer and author. Active in the Polish American groups as Vice President of the Polish American Cultural Club of Greater Hartford and Counsel to the National Polish American Cultural Club. Mr. Sikorsky has been involved in the presentation of the history of the Kosciuszko Squadron and the role of Merian C. Cooper as an American hero.
**Harvey Hubbell V is the CEO/Director, Producer of Captured Time Productions, LLC, a documentary film company that has won more than 50 film and video festival awards, including four Emmys. He shares an 80-acre Avid-equipped farm with his wife, Ande Haas Hubbell, the "2001 Connecticut Filmmaker of the Year". The company is set to release their latest documentary on dyslexia, entitled "Dyslexia: The Movie"
** William Ciosek is a founding Board member of the Foundation. He has researched the story of Merian C. Cooper and the Kosciuszko Squadron for over 15 years. He has written the film treatment entitled "Honor to You" and created and produced the video treatment, entitled "The Greatest Story Not Yet Told!", both of which are available within the Foundation's website at http://www.illuminateamericasheroes.com
The Foundation's website at http://www.illuminateamericasheroes.com contains the story of Merian C. Cooper and the Kosciuszko Squadron, told through an embedded YouTube video, entitled: "The Greatest Story Not Yet Told!" The written film treatment, "Honor To You" can be clicked and read within the website. The website also contains a donation link which allows everyone who supports this great story and mission to make tax exempt donation of any amount. All donations will greatly help the Foundation to illuminate this heroic story to the whole world.
For further information and questions about the Foundation and the Marian C. Cooper/Kosciuszko Squadron Film Project, please contact David C. Jamison, Executive Director at davidj@illuminateamericasheroes.com or by calling (334) 718-9501.
###
Contact information: David C. Jamison, Executive Director
The Foundation to Illuminate America's Heroes, Inc.
http://www.illuminateamericasheroes.com
davidj(at)illuminateamericasheroes(dot)com
(334) 718-950l