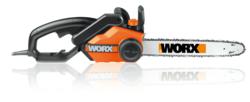 It definitely pays to be prepared, and one of the best tools for storm clean-up is an electric chainsaw.
Charlotte, N.C. (PRWEB) August 28, 2012
We live in a world of tempest and storm, as Winston Churchill said. And current weather predictions are out to prove it.
This year, there's a 70 percent chance that the U.S. will be hit by nine to 15 major storms and hurricanes with top winds ranging from 39 to 111 mph or higher, according to the Climate Prediction Center of the National Weather Service. In addition, an above-average tornado season is expected during the second half of 2012, with 885 tornadoes already reported. Prolonged droughts in many parts of the country have left behind many dead and damaged trees and shrubs. Not to mention frequent rounds of severe thunderstorms that take down trees and limbs, as well as causing other property damage.
It definitely pays to be prepared, and one of the best tools to have on hand for storm clean-up is an electric chain saw.
But don't cringe at the mere mention of chain saws. The new breed of electric chain saws, such as those engineered by WORX® , focus on safety, eco-friendliness, ease of operation and freedom from maintenance.
That's right, you don't need to be a lumberjack or tool guy to use a chain saw anymore. These new electrics can clear brush, trim trees and stockpile firewood, but are lighter and easier to use than gas models. They also are emission-free and have minimal operating costs, compared to gas models. And there's no mixing of oil and gas or hard-starting struggles.
The WORX lineup of electric chain saws includes three models with 14, 16 and 18-in. bar lengths. They have horsepower ratings of 3 , 3.5 and 4 hp, respectively.
Even homeowners who have been reluctant in to past to own a chain saw should look at the WORX approach. The electric saws are virtually maintenance-free with built-in safety features to keep users out of harms-way.
All three WORX chain saws feature Auto-Tension, a patented, tool-free chain tensioning and replacement system. There's a single, oversized knob on the side of the saw that not only secures the bar, but automatically maintains proper chain tension. The built-in blade brake is a key safety feature. It enables the operator to stop the chain immediately when setting down the saw or moving from one location to another. The chain brake handle is shaped so that it can be easily activated when the saw is held either horizontally or vertically.
Maximum operator comfort and control are provided by a rubber overmold rear handle and ergonomic, wrapped front handle. The bar is outfitted with a 3/8-in.-pitch chain that is designed to reduce kickback while safely improving cutting performance. A protective bar and chain scabbard and a quart of chain oil are included with each saw.
WORX chain saws are available at http://www.worxyardtools.com, online retailers, such as Amazon and Sears; Lowes home improvement centers; and local professional power equipment dealers. Local retailers are identified by zip code at http://www.worxyardtools.com.
Media Contact: MKM Communications at 847-255-1903 or mkmcomm(at)gmail(dot)com.