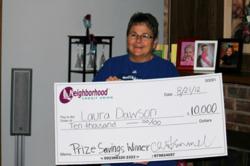 I just won $10,000. And all just for having money in a savings account!
Grand Prairie, Texas (PRWEB) August 28, 2012
A Grand Prairie woman opened her door on a rainy Tuesday morning and received a $10,000 surprise presented to her by leaders of Neighborhood Credit Union, her family's long-time financial institution. The prize was a reward for saving money.
"Holy Macanoli! How did this happen?" said shocked member Laura Dawson as Neighborhood Credit Union CEO Chet Kimmell and Senior Vice President Carolyn Jordan presented Dawson with a $10,000 oversized check. Kimmell congratulated Dawson while explaining that she was the big quarterly Prize Savings Account Winner.
"We've had a very good and long-term relationship with your family and it is members like you that make Neighborhood Credit Union what it is today," Kimmell said while thanking Dawson.
Neighborhood Credit Union created the Prize Savings Account to encourage members to save money and plan for their future by rewarding good savings habits with prize drawings on a monthly, quarterly, and annual basis. The credit union drew Dawson's name from among all its Prize Savings Account holders.
"I'm so excited, I can hardly stand it," Dawson said as she reached for her phone to share the surprising news with her husband. "You're not going to believe this. I just won $10,000." Dawson tells her husband while raving about the account. "And all just for having money in a savings account!"
Dawson and her husband, William, have been members of Neighborhood Credit Union for 37 years. She said that whenever their family had a financial need that they could always depend on the credit union. The Dawsons have used the credit union for checking, savings and loans.
"Mrs. Dawson is a great example of the rewards that can come from putting money away for the future," Kimmell said. "Starting small and making it affordable is often the key to planning ahead," added Kimmell.
"I started saving $10 a paycheck until I could build my savings," Dawson said while reinforcing the importance of saving and preparing for the unexpected.
"You told me you saved because you never knew when you would need it for a rainy day. Well, it's raining today and look what saving did for you," Jordan said.
How the Prize Savings Account works: Neighborhood Credit Union members receive one drawing entry for every $25 monthly average balance in their Prize Savings Accounts. The greater the savings, the greater the chance a member has of winning. Each month, drawings are held for prizes including $1,000 cash awards. At the conclusion of each year, a $25,000 Grand Prize winner is drawn. And the newly added $10,000 prize is designed to encourage members to keep saving year-round.
About Neighborhood Credit Union: The oldest credit union in Dallas (chartered April 18, 1930), Neighborhood Credit Union is a not-for-profit financial organization serving Dallas and Ellis counties, as well as the city of Arlington. With branches in Oak Cliff, North Dallas, Arlington, Mesquite, Duncanville, Lancaster, Richardson and Waxahachie (and soon to be in Grand Prairie) and assets topping $300 million, Neighborhood Credit Union has a membership of 31,000 and continues to welcome new members daily. For more information on Neighborhood Credit Union, call (214) 748-9393 or visit http://www.myncu.com.