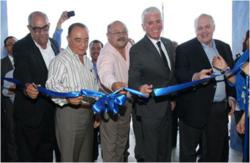 Mexico has all the elements to become a leading manufacturing platform - Gary Fairhead, Sigmatron Executive VP of West Coast Operations
Tijuana, Mexico (PRWEB) August 29, 2012
After an efficient two months set-up process supported by Vesta, member of the Tijuana EDC, Sigmatron celebrated the opening of its latest manufacturing facility in a ceremony attended by Jacobo Ackerman Federal Delegate in Baja California for the Ministry of Economy; Carlos Bustamante Anchondo, Mayor of the City of Tijuana; Miguel Velasco Bustamante, Secretary of Economic Development of Tijuana; Alejandro Mungaray Secretary of Economic Development of Baja California; Eduardo Gonzalez Promexico Director for Baja California and David Mayagoitia Chairman of the Tijuana EDC.
Among some of the distinguished guests were the President of SigmaTron International Gary Fairhead, the Executive Vice President of West Coast Operations, Raj Upadhyaya the Comercial Director of Vesta Industrial Parks, Rodolfo Balmaceda and the Regional Director of Vesta Baja California, Elías Laniado.
"This is Mexico´s Time" said Mr. Fairhead, President of Sigmatron International, highlighting SigmaTron's 40 year history of doing business in Mexico. Mr. Fairhead expressed that the company will continue operating in the country for a long time and that it is on the path of becoming a world leader within 10 years. "Mexico has all the elements to become a leading manufacturing platform" remarked SigmaTron's Chairman.
David Mayagoitia President of the Tijuana EDC highlighted Simatron´s efficient start up, he also pointed out this company strengthens the network of contract manufacturers located within the City. "Companies here are taking advantage of Tijuana´s 50 years of experience on electronics manufacturing making the city home for over 120 electronics companies and 59.000 jobs" concluded Mayagoita. .
Also, the Executive Vice President of West Coast Operations, Mr. Raj Upadhyaya remarked that the expansion to the Potrero facility was made possible in a period of only two months, a challenge in itself which demonstrated the local government's support and made evident Vesta's capabilities as an industrial developer.
Tijuana´s Mayor, Carlos Bustamante, stated that the establishment of new companies in Tijuana demonstrates the vote of confidence in the security that the city provides to national and foreign investors.
About VESTA
Vesta is one of the leading industrial Real Estate companies in Mexico, and owns more than 11.4 million square feet of industrial buildings for lease. With presence in 11 states within the country and 95% of its customers being mulnational firms Vesta has been able to provide the ideal space for companies looking to expand their operations in Mexico.
About Tijuana EDC: The Tijuana EDC is a nonprofit corporation dedicated to helping companies establish successful manufacturing operations in Mexico and to take advantage of the business opportunities of vertical integration, introducing qualified Mexican suppliers and facilitating access to new markets. For more information on how to take advantage of these opportunities contact the Tijuana EDC at contact@tijuanaedc.org or visit the EDC website at http://www.tijuanaedc.org