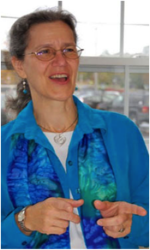 Teepa's knowledge and unique way of explaining and even acting out how those stricken with various forms of dementia is a phenominal learning experience for both family and professional caregivers
Sonoma, CA (PRWEB) August 30, 2012
Teepa Snow, MS, OTR/L, FAOTA is an occupational therapist currently working as a dementia care and dementia education specialist. Teepa is a well-known speaker who provides educational and training sessions to organizations and providers throughout the United States. During her recent west coast tour of speaking engagements, she was a guest on "The Aging Boomers" Radio Show."
"Teepa's knowledge and unique way of explaining and even acting out how those stricken with various forms of dementia is a phenominal learning experience for both family and professional caregivers," said Frank Samson, host of the show and also founder of Senior Care Authority. He continued, "She is able to go in and out of character as a typical person with Alzheimer's to demonstrate issues and problems to help caregivers learn new ways of thinking and managing themselves for better outcome and results." Interview with Teepa Snow.
"The Aging Boomers" features experts in various areas relative to the issues boomers and their parents are confronted with on an everyday basis including senior care, nutrition, insurance, financial and estate planning. The show can be heard live each week at 5pm ET at http://www.sunfmtv.com.