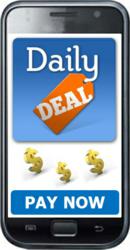 The article asks "Can one live on Daily Deals alone?" The answer is yes!
Aliso Viejo, CA (PRWEB) August 30, 2012
Today Mobile Wallet Media announces the launch of a new series about the future of mobile commerce, named SuperCommerce. The Founder and Chief Editor of Mobile Wallet Media, Randy Smith, says 'SuperCommerce' aptly describes the future of mobile payments made with a 'Mobile Wallet' that also allows for features such as gift cards, loyalty, offer and coupon redemption, any payment method, proximity offers, personalized offers, search, social media and social commerce.
The first edition of the SuperCommerce Series, 'Daily Deals Manifest Destiny – Can One Live On Daily Deals Alone?' introduces a new 'Mega Trend' in mobile commerce and beyond. Smith speaks about the article and this paradigm shifting idea; "This may quite possibly alter the future of retail commerce, advertising and marketing altogether."
Smith continues in stating "Daily Deal companies must adapt to the ever-changing landscape of mobile payments and marketing or cease to be relevant. They must transform themselves to survive in a world where a mass majority of the world will soon be using their phone to pay for most things." The article also describes how Daily Deals will work more like a mobile gift card, with real-time redemption at POS by using only your phone to pay.
Mr. Smith got his start in the world of Mobile Wallets in 2010, when he founded and launched MobilePayUSA. The company debuted at TechCrunch Disrupt in San Francisco and emerged on stage after being selected as the Startup Alley Winner by conference attendees. This company showed the world a first glimpse of what was to come with respect to the contemporary, Mobile Wallet. That same day, TechCrunch was acquired by AOL. This was also just three days prior to the debut of the movie 'The Social Network.' Sean Parker, the founder of Napster and one of the early founders of Facebook, was also a judge on stage that day for the competition. Mr. Parker recently made news with the sale of a big chunk of his shares in Facebook.
Mr. Smith commented about the experience at TechCrunch Disrupt "It was a surreal experience that fulfilled a dream I had planned for, prayed for, and hoped would come true."
In past weeks and months there have been a flurry of news announcements about the Mobile Wallet. Smith says "Companies such as Google, PayPal, ISIS, Square, LevelUp, Merchant Customer Exchange (AKA: MCX), and several others are all vying for a piece of the lucrative revenues the Mobile Wallet will surely produce for technology providers and marketers."
Smith closes by stating "The Mobile Wallet is a Game-Changer! Nothing will be the same! Dogs will not be sleeping with cats, but the like will happen as payments, marketing and advertising merge to align with the Mobile Wallet as it becomes the 'Gateway To All Commerce.' Mobile payments will be inherently more secure and convenient. The Mobile Wallet will be to plastic cards and paper coupons as email was to Snail Mail."
About Mobile Wallet Media
Mobile Wallet Media is a news media, analyst, marketing and consulting firm focused on the future of mobile: payments, commerce, daily deals, security, loyalty, marketing, prepaid cards, virtual currency and the convergence of them all with social and local. Randy Smith is the Founder and Chief Editor of Mobile Wallet Media. He was also the primary founder, inventor and former CEO of MobilePayUSA, a TechCrunch Disrupt Startup Alley Winner.