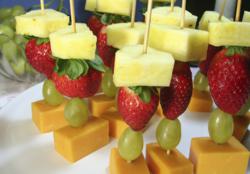 Harrisburg, PA (PRWEB) August 31, 2012
Studies show that hectic, busy lifestyles have resulted in families spending less time together at mealtime. Many nutritional experts agree that children's eating habits are suffering, and this is adding to the growing childhood obesity problem.
And it's a serious crisis. According the Centers for Disease Control and Prevention (CDC), childhood obesity has more than tripled in the past 30 years. The percentage of children aged 6-11 in the U.S. who were obese increased from 7% in 1980 to nearly 20% in 2008. Similarly, the percentage of adolescents aged 12-19 years who were obese increased from 5% to 18% over the same period.
To help battle the childhood obesity problem, the National Frozen & Refrigerated Foods Association (NFRA) and major sponsoring food brands have partnered with education curriculum specialists Young Minds Inspired (YMI) to bring a Cool Food for Kids™ nutrition program to elementary schools across the nation during the month of October.
The Cool Food for Kids program is full of classroom activities and is designed to help students and their families learn more about healthy food choices, well-balanced meals, portion control and the importance of increased physical activity. It also provides many healthful, nutritional options, ideas and meal solutions from the frozen and refrigerated dairy aisles of the grocery store – foods that can be prepared in minutes, allowing families to sit down together and enjoy meals everyone can feel good about.
Cool Food for Kids recommends following the simple MyPlate guidelines from the U.S. Department of Agriculture and provides these cool tips for cool food choices:

Make half your plate fruits and vegetables.
Make at least half of all the grains you choose whole grains.
Don't forget the dairy. Have fat-free or 1% milk with your meal.
Vary your protein choices (meat, poultry, fish, eggs, etc.).
Want a treat? Whip up a fruit smoothie instead of reaching for a candy bar.
Add some frozen veggies (carrots or sugar snap peas, for example) to your favorite dish, or eat them as a side. They're quick, easy and good for you.
For an easy, healthy snack idea, try Fruit and Cheese Kabobs. Alternate pineapple chunks, strawberries, grapes and cheddar cheese squares on wooden skewers – sure to be a kid (and family) favorite for any occasion or anytime of the day!
For more tasty ideas, recipes and information on frozen and refrigerated foods, visit http://www.EasyHomeMeals.com, and or http://www.facebook.com/EasyHomeMeals.
NFRA is a non-profit trade association representing all segments of the frozen and refrigerated dairy foods industry in promoting the quality and convenience of frozen and refrigerated dairy foods to consumers across the country. Through national supermarket promotions like March National Frozen Food Month, June Dairy Month, June/July Ice Cream & Novelties and October Cool Food for Kids, as well as the EasyHomeMeals website and Facebook page, NFRA encourages family mealtime and healthy lifestyles and provides important consumer information about frozen and refrigerated dairy foods, including food safety, meal ideas, recipes and more.