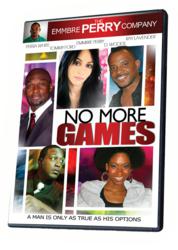 Emmbre's films are inspirational... He is creative, innovative, and multi-talented, showing the same genius in the film industry as his brother, Tyler Perry.
Atlanta, GA (PRWEB) August 31, 2012
Emmbre Perry's new film,"No More Games," is a romantic comedy starring, himself, Emmbre Perry, and Persia White of, TV show, "Girlfriends." The supporting cast includes, D. Woods of entertainment mogul P. Diddy's, "Making the Band;" and recording group "Danity Kane," both previously of VH-1 TV fame; and recording artist, Ray Lavender and Tommy Ford from the hit sitcom with comedian Martin Lawrence, "Martin." The film deals with relationships, dating taboos, and the complexities of finding and keeping love in today's dot-com, point-click, and social networking era. The film will be available on DVD, September 18, 2012 in Wal-Mart and other retailers.
UHE Acquisitions Director and spokesperson, Trae Dungy, had this to say about the new venture, "We're excited about the partnership and working with Emmbre. He is creative, innovative, and multi-talented, showing the same genius in the film industry as his brother, Tyler." Emmbre has already worked on several projects, proving his strengths as writer, director, producer, and actor. His films are inspirational, with a professional quality that reveals he is following his brother, Tyler's, path to success. In his new film, "No More Games," he debuts as executive producer, proving that he can excel being at the helm. We are sure his audience will appreciate his innovative approach to filmmaking, mixing humor with inspirational stories that will lift the spirit and lighten the heart. We enjoy working with fresh filmmakers that have the ability to paint vivid emotions upon the screen for our enjoyment and inspiration. I, eagerly, look forward to the release of "No More Games" and Emmbre's films that will follow. He has set the stage for a bright future in the film industry. "No More Games" is Emmbre's third directorial venture, showing him to be a seasoned filmmaker and one who is here to stay.
The Emmbre Perry Company:
The Emmbre Perry Company is a production company located in Fayetteville, GA. Its' primary goal is to produce entertainment films for the upscale urban consumer. The younger brother of film titan, Tyler Perry, has set about to carve his own niche by creating movies primarily for DVD, television, and digital distribution that deal with the complexity and the diversity of the African American Experience.
The Emmbre Perry Company is currently in pre-production of its next two feature films, to be released the first and second quarters of 2013. The Emmbre Perry Company was created in an effort to carry on the legacy started by Tyler Perry. The Emmbre Perry Company's mission is to remain committed to producing and distributing high quality productions, while giving positive entertainment that inspires the masses. The Emmbre Perry Company has previously produced and released two inspirational stage plays "God Send Me a Man", and "Let God be the Judge."
UHE - ULTAMATE HOME ENTERTAINMENT
UHE is a vertically integrated, innovative video distribution company that provides quality urban and latin entertainment. Its' distribution filmmography list films starring Megan Good, Tasha Smith, Zoe Saldana, and T.D. Jakes. UHE is one of only three African American owned and operated distribution outlets in the country. There is one common thread that all our films must have; it must uplift and inspire the viewing audience. Their core services include marketing, art development, sales, acquisition, and DVD/CD, digital, and television distribution. UHE is headed by TV and DVD distribution veteran,Barrett Dungy, and acquisitions/marketing director Trae Dungy.