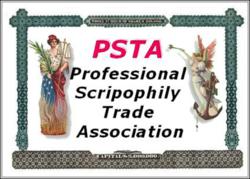 We are pleased to have Brian Self join our Board of Directors
Washington, DC (PRWEB) August 30, 2012
The Professional Scripophily Traders Association (PSTA) is pleased to announce the appointment of Bryan Self to the Board of Directors as Vice President, Research. With the addition of this position, the PSTA continues to provide a leadership position for professionalism and scholastic integrity in the area of historical finance and hobby of Scripophily.
Scripophily (scrip-ah-fil-ly) is the name of the hobby of collecting old stock and bond certificates. Values range from a few dollars to more than $500,000 for the most unique and rare. Tens of thousands of Scripophily buyers worldwide include casual collectors, corporate archives, museums and serious collectors.
The PSTA, founded in 1996, is the industry's premier source for news, information on the hobby, and collector awareness. "The addition this position continues to support our commitment to the consumer and progressiveness of our members in the organization," says Bob Kerstein, President and cofounder of the PSTA.
Bryan Self PCI, CFI and Business Analyst of Old Company Research has years of business and investigation experience. "We are extremely pleased and fortunate to have Bryan join our Board. We have all seen the passion and professional growth in the research aspect of the hobby which Bryan has been a major contributor over the past year," added Kerstein.
The Mission of the PSTA is to promote the study and collection of Scripophily for collectors, researchers, and for the interpretation and preservation of financial history. The PSTA supports educational projects, programs, seminars, museums to assist collectors and the general public to gain a better understanding of Scripophily, Finance and Business History.
Bryan Self has a Bachelor's Degree in Information Technology and Computer Forensics. Additionally, he holds the designation of Professional Certified Investigator and a Certified Forensic Interviewer. As Business Analyst of Old Company Research, Mr. Self provides services for individuals, banks, attorneys, estates and trusts detailing the company's history regarding name changes, mergers, bankruptcies, and predecessor and successor companies. Investigating the history and disposition of a company is fundamental for the determination of the securities market value.
Scripophily.com and OldCompany.com was founded by Bob Kerstein, a Certified Public Accountant and Chartered Global Management Accountant who has more than 36 years of senior management experience in the Cellular, Cable TV, Satellite, Internet, Professional Sports and Entertainment Industries. Bob is also the President of the Professional Scripophily Traders Association (PSTA).
For more information on Scripophily.com®, visit http://www.scripophily.com/, http://www.oldcompany.com and http://www.bob.com or call 1-703-787-3552.
Contact: Media Relations, Scripophily.com
Tel: 703-787-3552; e-mail: mediarelations(at)scripophily(dot)com
# # #