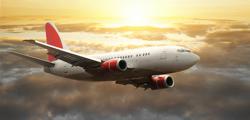 Columbus, Ohio (PRWEB) August 31, 2012
InsanelyCheapFlights.com announced today that it is currently discounting flights to and from Columbus, Ohio. Unlike most flight sales, which are usually brief and apply only to specific routes, the sale at InsanelyCheapFlights.com is good on most flights to and from Port Columbus International Airport.
For visitors in search of adventure, Columbus has it all covered. Explore the Hocking River in a canoe or kayak and take a zip line through the tree-tops on a Hocking Canopy Tour. Downtown Columbus sits on the banks of the Scioto River and the city is home to many famous buildings and attractions, including the Franklin Park Conservatory, the LeVeque Tower and the Ohio Statehouse in Capitol Square.
For those in town for looking for sport, there are over a hundred golf courses in the city and the pros can even be found playing in the Memorial Tournament every year.
Food and drink lovers will feel at home in Columbus, revelling in the huge spectrum of choices available to them. Hundreds of wine bars and cellars are located in the downtown area and a wine festival takes place in the North Market each year.
Music and the arts have a cherished place in the culture of the city and a vibrant art scene plays host to big budget shows, including Broadway Across America and Billy Elliot the Musical. For lovers of ballet the city's highly acclaimed ballet troupe can be found performing at the BalletMet. For those who prefer their jazz to their ballet, the Columbus Jazz Orchestra frequently delights audiences and there's a buzzing jazz scene running right through the heart of the city.
For the children, the Columbus Zoo and Aquarium guarantees a fun-filled, yet educational day out, and the fascinating Columbus Children's Theatre puts on shows performed by and for children.
The InsanelyCheapFlights.com sale isn't just for those with a visit to the great city of Columbus in mind. The flight sale works both ways and there are amazing discounts available for travellers flying out of Ohio.
Customers looking for low-cost flights to San Francisco or Phoenix can also enjoy the flight discounts. Visitors to InsanelyCheapFlights.com are presented with a promotional code good for service fees and flight bookings only.