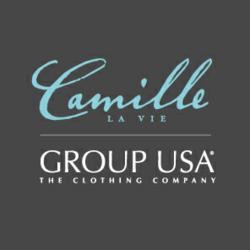 So much of what is happening at Camille La Vie & Group is about engaging in new and exciting ways with our customers
Secaucus, NJ (PRWEB) August 31, 2012
Camille La Vie & Group USA has recently launched a new online platform: a mobile version of the retailer's e-commerce website http://www.camillelavie.com/mobile that is made available for both iPhone and Android mobile devices. Through these online tools, shoppers will be able to easily purchase the dress, shoes or accessories for their special occasion while exploring other promotions, fashion-focused features and social media platforms that the company is actively engaged in – which can all be achieved while on the go.
The mobile site is a streamlined version of their main website featuring main categories starting (for the Fall 2012 season) with Homecoming Dresses, Wedding Dresses, Bridesmaid Dresses, Prom Dresses, Shoes, as well as a general clickable button for "All Departments", which range from Party Dresses, Sweet 16 Dresses, Quinceanera Dresses and several more. Other features include a list of the retailer's store locations nationwide; customer service information; YouTube fashion video clips on the "Camille TV" button; current promotions or special sweepstakes (a current one being the 'Show Us Your Prom Style' contest partnered with Seventeen Magazine); easy access to Camille La Vie & Group USA's Facebook, Twitter, Pinterest, Google Plus, Tumblr and fashion blog accounts; and other in-depth information about the company's fashion collections for each season.
"So much of what is happening at Camille La Vie & Group is about engaging in new and exciting ways with our customers. The launch of our new mobile site will serve as a crucial step on that journey," said Camille La Vie & Group USA President Denise Viotti.
About Camille La Vie & Group USA
Camille La Vie & Group USA is a true fashionista's shopping hot spot for prom dresses, homecoming dresses, wedding dresses, social separates, day into evening dress styles, bridal, formal accessories, jewelry and shoes. They offer one of the most extensive and stylish collections of special occasion dresses that can be found under one fabulous roof! Since its inception in 1985, the company's motto, "to provide customers with the latest dress fashions at an affordable price," has made them a leading retailer in virtually all categories. To date, Camille La Vie & Group USA has expanded to a total of 24 stores nationwide.
In select Camille La Vie & Group USA stores, customers will discover a collection of bridal apparel including wedding dresses, bridesmaid dresses, flower girl dresses, mother of the bride dresses and guest of wedding dresses. Camille La Vie & Group USA also provides bridal alteration and consulting services. So whether your style is classic and elegant or modern and chic, Camille La Vie & Group USA will outfit stylish women of all types without breaking their bank!
If you're in a committed search to score a certain dress style, Camille La Vie & Group USA is your one-stop source for all things pretty – from on-trend high to low dresses, mirror stone and chunky beaded bodices, bright and bold hues, florals and animal prints, handkerchief, godet and trumpet hemlines, subtle detailing or all over sequins, one shoulder, crisscross back or cut out silhouettes to cascading ruffles and fun, frilly poof a-line skirts in tulle, Camille La Vie & Group USA's fashion styles are seemingly endless! And the options do not just stop there. Follow Camille La Vie & Group USA on Facebook for all the latest updates and fashion alerts at facebook.com/camillelavie.groupusa