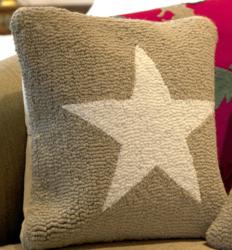 We added this neutral variation on the star pillow for urban sophisticates… But… many people have said that they really like the [political neutrality of the beige] star
Manchester Center, VT (PRWEB) August 31, 2012
Chandler 4 Corners, makers of hand-hooked wool pillows that often feature charming dogs, cozy cabins and speedy skiers, has expanded its patriotic line of pillows this election year. The group already includes a bumptious Republican elephant pillow, a dapper donkey pillow for the Democrats, along with great selection of red and blue star and flag pillows, rugs and accent furniture. This year, the company added a new beige star pillow that has recently caught on with voters who are tired of partisan wrangling.
"We originally added this neutral variation on the star pillow for those urban sophisticates who love muted colors and steel coffee tables and the like. But we've been surprised by how many people have ordered it and said that they really like the star—the patriotic tone—and they are pleased that this one won't spark a political argument over their home accents," said a bemused Henry Chandler, President of the company. "Perfect for all those independent voters!"
Carolyn Kelly, head of Customer Service, added that the red and blue star pillows are often bought in pairs so that people can adjust their decor depending on the political leanings of their visitors. "We like to imagine real pillow fights taking place in homes that have both the donkey and elephant pillows!" she said, laughing. "So far, we haven't heard of that happening."
All of the Chandler 4 Corners home accents —political and non—may be seen online at chandler4corners.com.