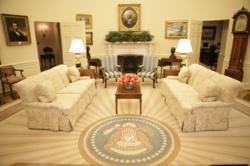 Kittinger has had a long standing relationship with the White House, so it made sense for Sony pictures to turn to us to reproduce the work we had previously done for several presidents.
Buffalo, NY (PRWEB) August 31, 2012
Kittinger Furniture, winner of the 2012 BEST: Made in America Award, has been commissioned to manufacture several replicas of the "real deal" furniture that currently sits in the White House for an upcoming action thriller: White House Down starring Channing Tatum and directed by Roland Emmerich. Filming begins this fall on location in Montreal and is set to release on June 28, 2013 during the peak summer movie season.
Kittinger's time-honored relationship with the White House gave them the credibility to provide not one, not two, but three sets of "White House" ready furniture for the movie set. This action thriller and potential summer blockbuster features Channing Tatum as a Secret Service agent tasked with rescuing the President of the United States from a paramilitary group that has taken over the White House.
SONY Pictures bought the script earlier this year and is giving the film VIP treatment with a July 4th week release in the Summer of 2013.
Ray Bialkowski, president of Kittinger Furniture, is enjoying the added business from SONY Pictures studio. "SONY Pictures has been a great client for Kittinger. They were excited to work with a company that already had the designs for the exact pieces in the White House. This eliminated the need for them to research the exact drawings, measurements, and colors of furniture items the public sees in the West Wing."
White House Down will feature an all-start cast, including Tatum, Jamie Foxx, Maggie Gyllenhaal, James Woods, Richard Jenkins, and Garcelle Beauvais.
Kittinger has had a long-standing relationship with the [real] White House and has manufactured furniture for a few rooms in the West Wing – the Cabinet Room and Oval Office, most recently.
Kittinger was also honored recently for their exemplary craftsmanship and commitment to American-based production at a private reception and awards ceremony on July 4, 2012 at the United States Capitol.
About Kittinger Furniture Company, Inc.
Kittinger Furniture Company, Inc. is a custom designer and manufacturer of the world's finest handcrafted furniture since 1866. Historical and new custom designs, flawless precision, and detailed craftsmanship are the hallmarks of each Kittinger product. In addition to creating new pieces, Kittinger also offers restoration services.
Kittinger Furniture Company, Inc. manufactures all goods and products at 2495 Main Street, Buffalo, New York. Kittinger proudly sells and displays their furniture at The Kittinger Gallery & Design Studio located at 5363 Transit Road, Williamsville, NY. To learn more, visit http://www.kittingerfurniture.com and http://www.kittingergallery.com.