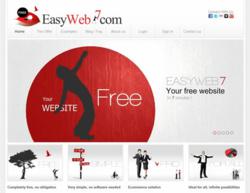 A free website doesn't mean a poor graphic design.
Dover, Delaware (PRWEB) September 05, 2012
The templates presented on the free website builder http://www.EasyWeb7.com are so customizable that it allows the user to present any activity on the web. Users can change the website background with their own images or logos. The user can also add or remove topics, sub topics and text as much as they want.
With more than 10 new templates per month, http://www.Easyweb7.com/demo/ is all time atop of graphic design and trends. This team of young web designer shares his passion for new technologies with anyone knows how to use a simple online Content Management System.
EasyWeb7.com seems to be, more than ever, an alternative to traditional web agencies, this allows their customers to save substantial sums of money. In addition, the time savings need to be considered. Taking care of customization, filling, and changes required throughout the process themselves, users are not subject to the whims of a webmaster. Any desired changes can be immediately posted online.
However, each website creation includes a non limited in time assistance. Any question is answered within 24 hours.
The process is simple:
1 - The customer chooses his graphic design on the catalog available at http://www.EasyWeb7.com.
2 - Customer chooses a username and a password.
3 - The system automatically create a free website.
4 - The user logs in to their private dedicated Content Management System and customizes their website.
This new free website builder allows users to take benefit of a market where growth rates are two digits, sometimes three. The last few still absent from the Internet are not excusable. With Easyweb7.com anyone can take benefit from a very easy to use professional website.