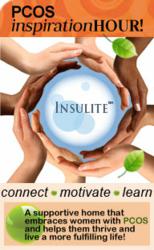 Denver, CO (PRWEB) September 11, 2012
Two years ago, Insulite Labs embarked on a quest to create a safe environment where women could gather and come together to talk and support one another who are dealing with Polycystic Ovarian Syndrome (PCOS) and other women's health issues like infertility, sexual health and hormone imbalance just to name a few. The vision was clear and took many shapes and today it has evolved into the PCOS Inspiration Hour. "Inspiration Hour" is a virtual gathering place for women to come together on the 1st and 3rd Tuesday of every month at 6:00pm EST (5:00pm CST, 4:00pm Mountain, 3:00pm PST). Meetings are hosted by the Insulite team of health care professionals and thought leaders in the fields of women's health. The virtual meetings will be to discuss woman's health and wellness issues and will focus on specific topics that will be announced before the meeting to all those who register at http://pcos.insulitelabs.com/inspiration-hour.php or on our Facebook page. The meetings provide simple and effective ways to be connected stay motivated and discover how to thrive and live a more fulfilling life.
On June 19th, Inspiration Hour brought the largest audience since the inception of the idea 2 years ago. The topic discussed was "3 simple steps for lasting motivation." Katie Humphrey, a spokesperson for Insulite Labs, inspiration leader, author of "Freedom from PCOS", The "Revolution of YOU" and a world leading lifestyles performance coach empowered the Inspiration Hour group by talking about creating compelling and specific goals for your health and wellbeing, to have a strong why, as to why you are doing it and to immerse yourself in motivation and positivity. Katie concluded the call by saying "Reaching the goal isn't the best part it is the journey and who you become along the way. If you aren't happy now you won't be happy when you reach your goal. You have to learn to enjoy your life now".
As cited in numerous government health websites, more than 10% of woman in United States have PCOS and more than 25% in other countries. With these staggering numbers, the Insulite team is thrilled that the Inspiration Hour is making such a positive influence. We encourage all women that are dealing with PCOS and struggle with weight gain, fatigue or depression to join us for the July 3rd call, where Katie talks about why it's tough to lose weight with PCOS and what you can do about it. Katie and other women will share weight loss, exercise and health eating tips that will bring more positivity to your journey.
The topics for the upcoming meetings are:

Why it's tough to lose weight with PCOS and what you can do about it.
Eating nutritious and delicious with a hectic life, discover how to stay ahead and on track.
How to Create Habits that Help You Feel Positive and Inspired.
Participants will be connected to a caring, supportive environment where they can network with their peers, share experiences, exchange ideas and troubleshoot their health and wellness related problems and concerns. Insulite team members will bring together the tools and support to help women take charge of their health. Participants will leave the meeting with simple ways to stay motivated, stay inspired and on their paths of more health and wellbeing in their lives.
Furthermore, participating women will help choose the subjects that are most important to them to be discussed on future calls, like;
Infertility
Hormone Imbalance
Weight Gain
Depression
Diet and Exercise
Wellbeing
Sexual Health
Skin Problems
Excess facial and body hair
Fatigue
Sleep Apnea
And…so much more
For more information and to participate in these powerful and life changing calls, please visit: http://pcos.insulitelabs.com/inspiration-hour.php or on our
facebook page at http://www.facebook.com/pcosinsulite
About Insulite Laboratories
Insulite Laboratories was established in 2001 in Boulder, Colorado USA, to research, develop and test a scientifically-based, multi-layered approach to addressing the problems associated with Insulin Resistance (IR), a potentially dangerous imbalance of blood glucose and insulin. Reversing the condition requires a complete, specialized system which incorporates potent nutraceuticals (a natural herb, vitamin, mineral or other nutrient used medicinally); a tailored nutrition plan; an exercise plan designed to increase insulin sensitivity; a component that addresses carbohydrate addiction; and an extensive support network.
Recognizing that there are millions of people who need this kind of systematic approach to reversing Insulin Resistance (IR), Insulite Laboratories has, over the past ten years, developed individual systems for PCOS (Polycystic Ovarian Syndrome), Excess Weight Gain/Obesity, Metabolic Syndrome (Syndrome X), Pre-Diabetes and Type 2 Diabetes.
For further information, visit http://www.insulitelabs.com, call 888-986-4325 or send an email to Mediarelations(at)insulitelabs(dot)com