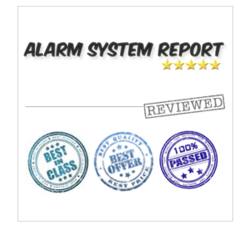 Cellular technology is the craze and home owners want to have their home alarm system hooked in to their mobile networks.
Reston, Virginia (PRWEB) September 04, 2012
The experts at AlarmSystemReport.com are always on the lookout for new and improved home security alarms. These experts then match the new technologies to the companies that are providing them so that they can rank them in order of best to worst.
This year's report is now finished and AlarmSystemReport.com has named the top 3 companies offering cellular alarm systems. These home alarm system companies turned out to be FrontPoint Security, Protect America, and Vivint.
These companies were a part of the top ten alarm system companies reviewed by Alarm System Report and were found to be the best. All three of these companies had superior cellular alarm monitored systems as well as great DIY systems for consumers to choose from.
Front Point Security headed the top of the list due to its extraordinary customer service. AlarmSystemReport.com found that FrontPoint Security had a very knowledgeable and friendly customer service staff that generally cared about the needs of its customers. Add in the advanced cellular technology and the fantastic remote monitoring options and consumers can easily see why this company sits at the top of AlarmSystemReport.com's rankings.
Protect America also had fantastic cellular alarm systems, but was found to be lacking in the customer service department. The experts at AlarmSystemReport.com secretly audited this company and each expert found that Protect America's customer service staff was friendly, but seemed to be centered more on sales rather than consultation.
Vivint had excellent alarm systems to choose from and could end up being at the top of the list next year. Nevertheless, Vivint's equipment manufacturer is new and the equipment's durability is yet to be seen.
Also, Vivint was previously known as a company named APX. This company was known for having customer service issues and AlarmSystemReport.com just does not have enough data on the new customer service staff to rate them as excellent. This being said, AlarmSystemReport.com did secretly buy from Vivint and did find their new staff to be very supportive.
The cellular alarm revolution is here and AlarmSystemReport.com's recommendation is that every homeowner who wants the best home security they can get should go with a cellular alarm system. Their ratings have been completed and their recommendations have been posted on their website for consumers to take advantage of.
Fortunately for homeowners, AlarmSystemReport.com's ratings are provided for free to all who visit their website. To find these ratings as well as helpful information on buying and using a home alarm system, please head on over to AlarmSystemReport.com today.
###