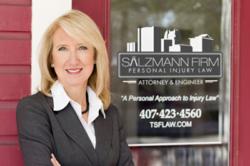 This is a long battle that we intend to fight to protect other young people who might do the very same thing—rely on the Sheriff's Office to protect them
Orlando, FL (PRWEB) September 06, 2012
Orlando Personal Injury Attorney Carolyn Salzmann, has added two United States Code section 1983 claims to the Tiffany Barwick and Michael Ruschak wrongful death case, bringing it to federal court. (Case No.: 6:12-cv-1024-ORL-36-KRS)
United States District Court
Middles District of Florida
Orlando Division
Case No.: 6:12-cv-1024-ORL-36-KRS
According to court documents, the Barwick and Ruschak families assert that the Seminole County Sheriff's Office was grossly negligent in investigating the written and graphic death threats that Andrew Allred made against his victims. Moreover, the families allege that the advice given to Barwick and Ruschak was a major contributing factor to their murders.
October 23, 2007, a grand jury indicted Andrew Richard Allred with two counts of first-degree premeditated murder of Michael Ruschak and Tiffany Barwick. The grand jury also charged Allred with three other criminal charges. (I 33-37) The state filed a notice of their intent to seek the death penalty on October 25, 2007. (I 38) On April 30, 2008, Allred signed a written plea agreement withdrawing his previously entered pleas of not guilty and tendered pleas of guilty to all five counts as charged.
The Salzmann firm's complaint, filed in Federal Court, pursue's the families complaint that there were numerous errors from Field Service Officer Kay and Deputy Brewer while handling the requests for help from Tiffany Barwick and Michael Ruschak. Salzmann's Federal Court Complaint alleges that the errors made by the Seminole County Investigators were so egregious that they amount to a deprivation of civil rights and therefore stand as the basis for adding the two federal claims.
On the evening of September 24, 2007, Barwick, 19, and Ruschak, 22, were murdered by Barwick's ex-boyfriend, Andrew Allred. The Florida State Supreme Court states in case No. SC08-2354 that, "He [Allred] used pictures of Barwick for target practice and subsequently emailed Barwick a photo of the bullet-riddled pictures that were hanging on the wall of his room." Prior to the murders, Allred made written death threats against Barwick and Ruschak as well as making the graphical death threats discussed above. The Florida State Supreme Court states in case No. SCO08-2354 that, "On September 24, 2007, the day of the murders, Allred specifically threatened the lives of Barwick and Ruschak. In an instant message chat with Siler in the morning, Allred stated, ―I'm pretty much gonna kill him . . . Ruschak . . . and her. In an electronic conversation with victim Ruschak on that same day, Allred told him, ―If [I] see you again, [I] will kill you, and yes that is a threat."
According to court documents, Allred made clear threats against the lives of Barwick and Ruschak, Salzmann is pursuing per the complaint, that the Seminole County Sherriff's Office did not properly investigate the threats. Despite Barwick's complaint that Allred sent her threats and the disturbing e-mail containing her bullet-ridden photograph, no one from the Sherriff's Office ever asked to see the evidence. In case No. 09-CA-7719-11-G (30), it states that, "FSO Kay spent almost 45 minutes with Barwick inside her apartment and never once asked to see the threatening text messages or the email with the bullet-ridden photographs of Barwick."
"From what we have discovered, we believe that the Seminole County Sheriff's Office did a shockingly poor job investigating the death threats, which is the basis of the newly added federal claims," Carolyn Salzmann explained. "This is a long battle that we intend to fight to protect other young people who might do the very same thing—rely on the Sheriff's Office to protect them."
Public records show that on the day of their murders, Barwick and Ruschak contacted the Seminole County Sheriff's Office twice. Brandie Hartley, 911 Operator for the Seminole County Sheriff's Office, received a call from Tiffany Barwick on September 24, 2007. The call was published for the court. (V4, PP257-58, 265-66, State Exh. 45). Both responding deputies made no effort to contact Allred, even though under Florida Statutes (Fla. Stat. §836.10), they had just cause to arrest him. Salzmann alleges that without even viewing the threats that Allred had sent to both Barwick and Ruschak, the officers advised the two to "go home and surround themselves with friends." It is this advice that Salzmann asserts to be a large part of the Sheriff's Office's gross negligence.
The officers claim to not have been aware of the fact that written death threats allowed a deputy to arrest suspects. Furthermore, all involved admit no one ever looked at the evidence. Salzmann's complaint alleges there was a clear breach of duty that the Sheriff's Office owed to Barwick and Ruschak that led to their murders." In Case No. 09-CA-7719-11-G, cited under Factual Allegations (50) Deputy Brewer told Barwick and Ruschak that "his [Allred's] actions did not meet the necessary elements for a charge of assault due to this statements not conveying an imminent threat."
Carolyn Salzmann, of The Salzmann Firm, graduated from the Toledo School of Law Magna Cum Laude, and opened The Salzmann Firm in February 2010. Salzmann's firm credo is "a personal approach to injury law" which she accomplishes by providing her clients with a high level of accessibility and customer service.