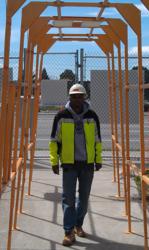 With this relationship in place, we now have a national presence for our Workforce Monitor service.
Reston, Virginia (PRWEB) September 11, 2012
ADR Software, LLC, headquartered in Reston, Virginia, today announced the execution of a Channel Management Agreement and Certified Sales Agent Program with iPlanTables, LLC of Houston, Texas. Under the terms of the agreement, iPlanTables was granted an exclusive right to market ADR's Workforce Monitor service to the commercial construction industry through reprographic services dealers and service providers.
Under the terms of the Agreement, iPlanTables and iProjectSolutions will register and manage a network of Certified Sales Agents comprised of companies from the reprographic services industry. The initial network of certified sales agents will be comprised of the independent dealers and distributors of iPlanTables products. The initial iPlanTables network of certified sales agents will include 24 sales agents in 20 states including: Alabama, California, Colorado, Kansas, Kentucky, Maryland, Massachusetts, Michigan, Minnesota, Missouri, North Carolina, North Dakota, Nevada, Ohio, Pennsylvania, Texas, Virginia, Wisconsin and Oregon. Over time, iPlanTables will add certified sales agents as it identifies additional qualified reprographic services providers with the ability to represent and service the Workforce Monitor service.
"We are excited to be working with iPlanTables and iProjectSolutions," said Bruce Labovitz, Co-Founder and President of ADR. "With this relationship in place, we now have a national presence for our Workforce Monitor service. We now have sales agents and service technicians in most of the key construction markets around the United States with a program in place that allows us to expand easily and cost effectively into new markets. We expect this relationship to provide meaningful acceleration to the proliferation of ADR's workforce monitoring portals on construction sites throughout the United States. The addition of the iProjectSolutions software application as an alternative user interface for Workforce Monitor expands the number of platforms from which workforce information can be accessed. The iProjectSolutions application supports the recent release of our SharePoint compatibility initiative and reinforces our open access approach to workforce data presentation."
"We believe that Workforce Monitor is a perfect complement to the products and services being provided by iPlanTables, iProjectSolutions and our national network of distributors and resellers," said Kevin Rowe, founder and President of iPlanTables. "Our distribution channel is comprised of highly respected and successful reprographics services providers with extensive knowledge of, and experience in, the commercial construction industry. We see ADR's Workforce Monitor service as a perfect addition to the suite of products and services we sell to the construction industry. Our iProjectSolutions software already provides seamless management of project documents and we are confident that the integration of real-time workforce information into our application will enhance the value of our software and hardware platform to our end users."
Workforce Monitor is a service of ADR Software, LLC headquartered in Reston, Virginia. General contractors, owners, project managers and sub-contractors use the service to provide real-time workforce visibility, to empower real-time workforce decision making, to provide invaluable project workforce documentation, to improve safety awareness and response readiness and to manage risk. Workforce Monitor utilizes RFID tags, embedded in all-weather job stickers affixed to hard hats and ID badges, to monitor workforce traffic without delays, interruptions or inconsistencies. Workforce Monitor is currently monitoring for over 40,000 workers at construction sites throughout the United States. ADR Software, LLC can be reached at (703) 230-2588.
iPlanTables is a professional approach to viewing, collaborating, estimating and archiving critical project information. As a design and construction professional spends up to 90% of their time viewing project data, iPlanTables fills the voids left by traditional monitors, projectors or laptops. iPlanTables can be ordered in various models - from the sturdy Project Manager series to the Facilities Manager series. There is not a single piece of technology that can improve your efficiency and accuracy like iPlanTables. iPlanTables, LLC can be reached at (877) 843-2121.