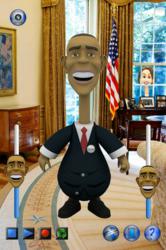 Occupy Humor!
Boston, MA (PRWEB) September 11, 2012
Politics Full Throttle, LLC, is now offering a Political App for the iPhone and iPad that can be available anywhere at anytime. The ultimate virtual conversation piece! So, if there is ever the need to de-stress or just in need of a laugh, press the button, swipe the arm, raise their thumb, spin 'em around, or simply throttle the neck, either way it's available all the time...go ahead it's not going to hurt and it will produce a laugh.
ThrottleNecks™ Obama App also speaks documented phrases that the selected politician has said. Plus, the App can record spoken phrases and the ThrottleNeck character will say it back. The piece de resistance, with the full version app a picture can be taken with the Obama character anywhere. ThrottleNecks™ are everywhere the user wants them to be via email or social media.
Maureen O'Leary, a self described "political junkie" discovered there wasn't a way to vent her frustration while listening to the political pundits, politics and news media. Many a time feeling the need to throttle someone or something the idea of "Throttle-Necks"™ was born. O'Leary is the Founder of Politics Full Throttle, LLC and the creator of the Throttle Necks™ App. A two person company was then established and funded personally with no outside dollars. Allison Guthrie joined the endeavor at the start and handles the day-to-day operations at Throttle-Necks™ which started with talking political dolls and the idea seemed a perfect match for the App environment.
Politics Full Throttle, LLC is an Equal Opportunity Offender!
Romney APP due August 2012! http://www.throttlenecks.com. Find us at http://itunes.com/apps/throttlenecks. Friend us on Facebook!
Press Contact:
Allison Guthrie
SVP Politics Full Throttle, LLC
politicsft(at)gmail(dot)com
617-240-2314