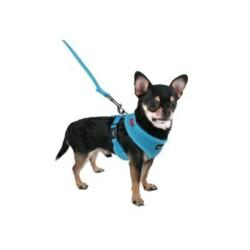 Dog harnesses like the Puppia harness are designed to distribute pressure evenly.
New York, NY (PRWEB) September 06, 2012
At Organic Pet Boutique the question most commonly asked is what is best for a dog, a dog harness or a collar? While many dog owners say they would do just about anything to keep their dogs safe, they may not realize that they are putting their dogs at risk just by putting them in a collar. Collars are the one of the most common restraint methods used by dog owners today but there is a better, safer option out there: the dog harness. Dog harnesses like the Puppia harness are designed to distribute pressure from the leash along your dog's chest and back, relieving the strain placed upon his neck and throat by a traditional collar. It will be helpful to understand the benefits of dog harnesses and consider making the switch.
1. No Strain on the Neck
With a traditional collar, all the pressure from the pull of the leash will be concentrated on the dog's neck and throat. Over time, this could lead to serious concerns such as breathing problems, gagging and skin damage. Dog harnesses like the Puppia harness are designed to distribute pressure evenly along the dog's chest and back, thus preventing these problems and increasing the comfort level for the dog.
2. Reduces Leash Pulling
Many dogs, especially puppies and high-energy breeds, have a tendency to pull on the leash during walks. While a traditional collar will give some control over the dog's movements, it will exert a great deal of pressure to elicit a response from a large dog. Because a dog harness fits around your dog's chest and back, it takes less effort to restrain the dog when wearing a harness.
3. Won't Aggravate Medical Conditions
If the dog suffers from a medical condition such as a collapsed trachea, putting them in a traditional collar can be very dangerous. In fact, there are several breeds of dog which should never wear a traditional collar due to the risk of spinal cord injuries. Dogs suffering from Wobbler syndrome, toy dogs with Chiari malformation and breeds like Dachshunds and French bulldogs which are predisposed to slipped discs should always wear dog harnesses as opposed to collars because a harness will distribute pressure safely along the dog's body rather than concentrating it on the neck or spine.
4. Greater Security
Another benefit of dog harnesses over traditional collars is that they provide greater security. Small breeds of dog in particular can be difficult to keep in a collar because many collars are not designed for small dogs. An adjustable dog harness like the Puppia harness, however, fits between the dog's legs and wraps around his chest, making it more difficult to slip out.
5. Comfort
Unless you frequently adjust the dog's collar to ensure a proper fit, it can easily become too tight and uncomfortable for your dog - in extreme cases, the collar may actually rub the dog's fur and irritate his skin. Dog harnesses like the Puppia harness, however, are made from lightweight, breathable material which makes them incredibly comfortable to wear. When fitted properly, the dog should not even notice they are wearing the harness at all.
Though traditional dog collars certainly have their uses, dog harnesses like the Puppia harness are widely believed to be the safer option. For an easy to use, comfortable replacement for a dog's collar, don't hesitate to consider using a dog harness.