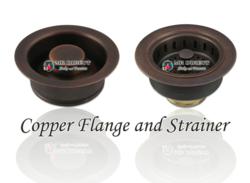 The copper sink strainer and flange will not only add superior functionality to a copper sink, but will help to enhance the look of the entire kitchen.
Toledo, OH (PRWEB) September 04, 2012
Perhaps two of the most overlooked accessories when shopping for a kitchen remodel are sink strainers and flanges. Strainers help to keep sink drains from clogging and becoming damaged due to unwanted debris falling down the drain opening. And, although they serve a different purpose than strainers, sink flanges play a vital role for sink units containing a garbage disposal. Now, MR Direct offers new styles of copper strainers and flanges for their entire copper kitchen sink collection.
MR Direct's new copper strainers are made from 99% pure copper. Like a standard strainer, they are easy to assemble and will work with any 3 ½" drain opening on a kitchen copper sink. The new copper strainer finish has an antique feel, which has been formulated to match MR Direct's copper sinks more accurately. With any copper sink, a copper strainer will enhance the sink appearance, as well as protect the drain from unwanted food waste and other objects.
Like the copper strainer, the flange is also constructed from 99% pure copper and is made to work in conjunction with most garbage disposals. The copper flange is the portion of the drain system which is visible from the top of the sink and is designed to aid in prep and cleanup tasks. The stopper that fits inside the flange body is constructed from strong, high quality materials and is made to keep unwanted debris from clogging the drain. With most double bowl sinks, a flange will be used on the side of the sink containing a garbage disposal and a standard strainer will be used on the opposite side. No flange is needed without a garbage disposal.
Maintenance of a copper strainer or flange is as simple as a copper sink. Frequently washing the copper sink, strainer and flange with mild soap and water will help fight water spots and keep the surface clear of bacteria. After cleaning with mild soap and water, a dry cloth should be used to wipe up excess water and protect against water spots. Making sure the strainer is cleared of waste after each use will diminish the possibility of odor and bacteria buildup.
If drain odors become a problem, MR Direct recommends pouring boiling water down the drain opening, since most odors are caused by bacteria. If that is not enough, running hot water into the drain while slowly sprinkling a teaspoon of baking soda into the opening may do the trick. Using vinegar or bleach may also work, but caution should be taken not to splash these substances onto the exposed surface of the sink, strainer or flange. For foul aromas in a garbage disposal, adding citrus peels to the disposal unit while it is running can help to deodorize it.
These new copper accessories are not only easy to care for, but also to assemble and install. MR Direct's copper strainer and flange are specially made to fit every copper sink that they manufacture, and only basic plumbing skills are required to assemble. Consulting an installer before purchasing any accessory will ensure the correct products for any kitchen sink.
MR Direct provides a wide variety of accessory options for all of their sinks. Not only do they offer copper strainers and flanges, but also stainless steel strainers, dish baskets, sink grids and pop-up drains for a wide variety of their products. They provide many different sizes and finishes to match any design style at very competitive prices. The copper sink strainer and flange will not only add superior functionality to a copper sink, but will help to enhance the look of the entire kitchen.