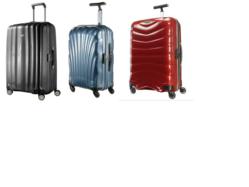 Samsonite's Cosmolite, Cubelite and Firelite are part of the Curv Collection
Kent (PRWEB UK) 3 September 2012
The Curv technology has provided Samsonite's manufacturers to break through into an amazing world of unprecedented weight savings, one of the biggest needs for travellers. This has made Samsonite yet another trend leader in the travel world.
Curv technology is an advanced impact-resistant, lightweight material and the technology is better known for being used in bullet proof vests, skates and skis. The raised ridges on the cases made of Curv, enable unmatched strength and remove the need for a thickened shell.
The manufacturing process uses 100% virgin polypropylene grains which are then melted into a thin sheet of polypropylene. The strips are then stretched 10 to 15 times to make them incredibly strong and thin. These strips are then woven together as cotton is woven and the result is a layer of stretched and woven polypropylene fabric. Several layers of the woven polypropylene are partially melted and hot compressed in order to form an absolutely light and strong sheet. This process all takes place in Germany by the Propex Operating Company, LLC.
The process awes the onlooker and can be viewed at http://www.youtube.com/watch?v=MbFQrnQzVis.
Samsonite's Cosmolite, Cubelite and Firelite are part of the Curv Collection and have become some of their most popular European buys.
Luggage Superstore established site is in West Kingsdown, Kent. Their aim is providing competitive prices of the highest quality luggage and top calibre Customer Service for online luggage shopping.
Trina Chee-a-kwai
Luggage Superstore
01474 854666
Email information