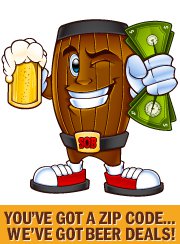 Every bottle is an adventure
Houston, TX (PRWEB) September 21, 2012
Oktoberfest – the world's largest beer festival -- runs from September 22nd through October 7th in Munich, Germany. Each year, 6 million revelers partake in the celebration. The beer tents first went up in 1896 and, today, 30 percent of Munich's beer supply is guzzled down during these two weeks.
Authentic German beers to enjoy this time of year include beer manufactured by Paulaner, Spaten, Hofbrauhaus, Lowenbrau, Hacker-Pschorr, Augustiner, Ayinger, and Warsteiner. However, American brewers were so inspired by the tradition that they began crafting their own season brews fashioned after German Märzen-style beers. As these beers begin hitting the shelves, shoppers will start seeing new names pop up in the beer price database at SaveOnBrew.com.
"Märzen beers were traditionally brewed in March and stowed in a cool beer cave until autumn," explains SaveOnBrew's Mark Davidson. "They're generally a gold to amber color, sweet, malty and light on hops. If you like lagers with bready, toasty malt and toffee sweetness, then you'll look forward to Oktoberfest seasonal beers all year long. They're very refreshing and very palatable."
Davidson lists several brands offering Oktoberfest beers in 2012:

Sam Adams
Victory Brewing (Festbier)
Brooklyn Brewery
Left Hand
Otter Creek
Harpoon Brewery
Flying Fish
Beck's
Abita (Fall Fest)
Frankenmuth Brewery
Leinenkugel's
Shiner
Pyramid
Rochester Mills Brewing Co
"Oktoberfest beers are interesting because every American brewery puts their own spin on it," Davidson explains. "Rochester Mills has a little more spicy hops / bitter flavor, whereas Leinenkugel's will be sweeter and maltier. Shiner's lighter-colored Oktoberfest goes for a crisp taste, Sam Adams is strong on the robust caramel flavor, and Brooklyn lets more of the bread and grain shine through. Every bottle is an adventure, so I recommend having a tasting party and finding out which brand suits your personal preference."
Consumers should visit http://www.SaveOnBrew.com for an updated list of local retailers with Oktoberfest beers on sale.
About SaveOnBrew.Com: Founded in 2010 to help thirsty beer drinkers across the United States find the lowest advertised prices for one of the world's most popular beverages.