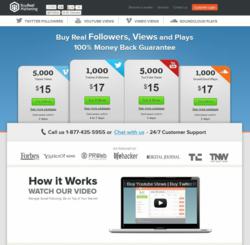 Ottawa, ON (PRWEB) September 01, 2012
Buy Real Marketing, a company specialized in web 2.0 applications and social media marketing, reveals that its service buy Twitter followers remains strong with an upward slope in sales despite the ongoing negative press about buying Twitter followers. In an article from New York Times, several Twitter providers were mentioned as examples of websites selling Twitter followers, emphasizing the fact that it is a profitable business with many websites popping up during searches. Moreover, the article cited the pros and cons of buying Twitter followers publishing statements from both sides.
Buy Real Marketing has been on the market for two years providing social media boost through Twitter followers and a host of other social media services such as YouTube views, Vimeo views and SoundCloud plays. With the ongoing controversy, the company attributed their improved sales figure to curiosity and knowledge of this long-kept secret only known to online marketers, celebrities and politicians.
With news websites like New York Times, NBC and USA Today talking about politicians and celebrities buying Twitter followers to help their careers, Buy Real Marketing has now garnered more attention especially that the company comes highly recommended by satisfied clients.
"Naturally, it is inevitable people would want to buy Twitter followers, now that they know that it is possible. Buy Real Marketing believes the negative reviews that these big news organizations publish only boost the exposure of companies that sell Twitter followers such as ours, "mentions JP Bisson, Managing Director for Buy Real Marketing.
The company has seen the need to boost social media profiles in order to help struggling businesses thrive in the middle of the fierce online competition made tougher by giant corporations with millions of existing fans offline and online. Buy Real Marketing continues to provide the same value to their clients offering 100% Money Back Guarantee and a 24/7 customer support.
To know more about the company's services, visit their website at http://www.buyrealmarketing.com or contact them at 1-877-435-5955.
About
Buy Real Marketing is owned by Clicking Labs. Clicking Labs is a well-established internet marketing company founded in 2010 by Jean-Patrick Bisson, Diana Quartin and Jonathan Kennedy. The company specializes in driving search marketing and social media traffic, social web app development and conversion optimization. Each product or service specifically helps small/medium website owners increase online visibility and improve online sales.