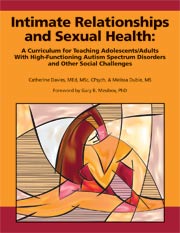 When parents and professionals ask me if there is a comprehensive sexuality education curriculum for bright learners with ASD, I can finally say 'yes.'
Overland Park, KS (PRWEB) September 05, 2012
Authors Catherine Davies and Melissa Dubie provide 11 detailed lessons covering both the "technical" details of sex and the relationship factors involved. Topics range from fact-based content such as sexual anatomy and reproduction to lessons that teach aspects of social judgment such as dating, building relationships and decision making in relationships. Each lesson includes a highly structured lesson plan with learning objectives, individual and group activities, student assignments and handouts - the latter are also provided on the accompanying CD.
The curriculum can be easily adapted for individual or group instruction. This much-needed resource addresses many of the areas outlined by the National Sexual Education Standards (NSES).
"This book is a remarkably well-researched blend of peer experience, pragmatic teaching and professionalism. I wish I had been exposed to something like this in my youth! Most importantly, it recognizes the great diversity of potential sexual experience in the autistic community and maximizes the chances of my peers for sexual fulfillment of their choice." - Jerry Newport, co-author of Autism, Aspergers and Sexuality: Puberty and Beyond
The curriculum comes complete with lessons, activities, handouts, PowerPoints, resources and more. The accompanying CD contains all the handouts for easy duplication and individualization.
About AAPC Publishing
Established in 1999, the mission of AAPC Publishing is to be the first source for practical solutions related to autism spectrum and related disorders. AAPC Publishing is an independent publisher, targeting professionals and parents alike. AAPC Publishing strives to offer publications at affordable prices so that important resources are available to anyone with an interest in the autism spectrum.
For media inquiries, please contact marketing(at)aapcpublishing(dot)net.