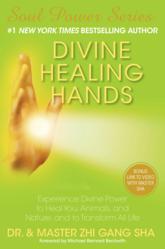 Heal and transform the soul first; then healing and transformation of every aspect of life will follow. -- Dr. and Master Zhi Gang Sha
New York, New York (PRWEB) September 04, 2012
New York Times bestselling author, Divine channel and the grandmaster of many ancient Chinese disciplines, Dr. and Master Zhi Gang Sha teaches a universal Tao principle that reincarnation happens to everything. Not only do human beings reincarnate, but he contends that Mother Earth does too. Since 2003, Mother Earth's reincarnation has been marked by floods, blizzards, droughts, famine, disease, political, religious and ethnic wars, economic challenges, vanishing plant and animal species and other upheavals. In response, millions of people are suffering from depression, anxiety, fear, anger and worry. They also suffer from pain, chronic conditions and life-threatening illnesses.
In a time when more people are looking to answers to life's questions, Dr. Sha is proving to be a popular choice. He was trained as a conventional medical doctor and a doctor of traditional Chinese medicine. The founder of the Institute of Soul Healing and Enlightenment™ and the Love Peace Harmony Movement™, Master Sha is a grandmaster of many ancient disciplines, including tai chi, qigong, feng shui, and the I Ching.
Master Sha is also an expert in the most advanced cellular healing science now occurring in China. In the West, he is involved in breakthrough research on the effects of spirit on the human system. Dr. Sha was named Qigong Master of the Year at the Fifth World Congress on Qigong. In 2006, he was awarded the Martin Luther King, Jr. Commemorative Commission Award for his humanitarian efforts.
Mother Earth is undergoing a very special transition marked by intense purification. Humanity is enduring suffering because of bad Karma created over thousands of years of wars, killing, greed, stealing, cheating, taking advantage of others and other atrocities of humanity. Karma is cause and effect. We've caused harm to ourselves, our families, our communities and Mother Earth. When humanity produces so much negative energies, we throw off the natural balance of nature. We have to reconnect our energies with nature and bring our lives back into balance with the Mother Earth.
As the author of the powerful Soul Power Series, which includes Tao I, Divine Transformation, Tao II, The Power of Soul, Soul Wisdom, Soul Communication and Tao Song & Tao Dance, Dr. Sha has already revealed soul secrets and has taught soul wisdom and practical soul techniques to countless readers and close to 100,000 dedicated followers around the world. Dr. Sha maintains that the power of the soul can heal, prevent illness, rejuvenate, increase longevity, and transform every aspect of life, including relationships and finances.
Now with his tenth book in the Soul Power Series, DIVINE HEALING HANDS: Experience Divine Power to Heal You, Animals, and Nature, and to Transform All Life (Atria Books; $29.95; September 11, 2012), Dr. Sha focuses on how Soul Power can open our spiritual selves to help ourselves and others.
Dr. Sha is not only a teacher but also a servant to God. His life's work includes serving humanity by helping people achieve balance in their life, cleanse karma, be of service to others, and lift the soul to a higher standing in heaven. By finding a path to harmony with the universe, everything else in our lives will follow. Divine Healing Hands carries a frequency and vibration from God that can transform the frequency and vibration of the health, relationships, finances, intelligence and every aspect of life. This is the first time that the Divine has ever been willing to give the opportunity and honor to humanity to receive his permanent healing hands to serve humanity, mother earth, heaven an all universes. In Divine Healing Hands, Dr. Sha explains how:

Divine Love melts all karma blockages and transforms all life
Divine Forgiveness brings inner joy and inner peace to all life
Divine Compassion boosts energy, stamina, vitality and immunity of all life
Divine Light heals, prevents sickness, purifies and rejuvenates the soul, heart, mind and body. Divine Light also transforms relationships and finances of individuals
In Divine Healing Hands, Dr. Sha shares the Divine's mission to save humanity and Mother Earth, while helping to transform all life. Some of the fascinating topics that Dr. Sha explains in his book include:
What is the power and significance of Divine Healing Hands
Why do Divine Healing Hands work
How do soul blockages affect our lives
Why the Divine is releasing his Soul Hands to humanity at this time
How to apply Divine Healing Hands to open your spiritual channels
How to apply Divine Healing Hands for healing, blessing and life transformation
How to apply the Four Power Techniques
How to use Divine Healing Hands properly
Who can use the Divine Healing Hands techniques
How to appropriately ask the Divine for blessings.
"If you want to know if a pear is sweet, taste it. If you want to know if Divine Healing Hands is powerful, experience it," says Dr. and Master Zhi Gang Sha.
# # #
Dr. & Master Zhi Gang Sha is a soul leader, a world-renowned healer, and a divine servant. He was trained as a conventional medical doctor and a doctor of traditional Chinese medicine. The author of more than 12 books published by Simon & Schuster (Atria Imprint), Dr. Sha's most recent New York Times bestseller is Tao Song & Tao Dance (December, 2011). All of Dr. Sha's Soul Power books, DVDs and CDs, reveal soul secrets, wisdom, knowledge and practical techniques to transform every aspect of life, and are bestsellers throughout the world. Visit Dr. Sha on his website http://www.DrSha.com and receive FREE daily Divine Healing Hands blessings via webcasts, teleconferences and in-person at retreats held throughout the world.
DIVINE HEALING HANDS
Experience Divine Power to Heal You, Animals, and Nature, and to Transform All Life
By Dr. and Master Zhi Gang Sha
Atria Books; On Sale Date: September 11, 2012
ISBN: 9781476714424
Pages: 352/ Price: $29.95/ Price Canadian $34.99