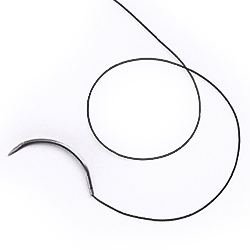 At the request of many doctors, AD Surgical is now excited to add four nylon biopsy sutures to our suture portfolio.
Sunnyvale, CA (PRWEB) September 04, 2012
Today AD Surgical announced the addition of four biopsy versions of Nylon sutures to its growing line of UNIFY® Surgical Sutures. UNIFY® Surgical Suture is a top-rated product with quality comparable to those of the market leader Ethicon® but at a significantly lower cost.
At the request of many doctors, AD Surgical is now excited to add four nylon biopsy sutures to our suture portfolio. Most of our sutures are available in standard 18" and 30" lengths. We are now one of the few companies that offer sutures in 10" lengths. These shorter sutures are less expensive and used primarily for biopsy wounds or small wound closures. Currently, the biopsy sutures that we offer include the 4-0 or 5-0 thread with a medium (FS-2) needle, and a 5-0 or 6-0 thread in a small (P-3) needle. Our suture portfolio will continue to grow based on the request and feedback from our valued customers.
Currently over 60 different types of UNIFY® Surgical Suture are offered to medical, dental and veterinary professionals throughout the United States. They are available in 7 thread sizes (0, 2-0, 3-0, 4-0, 5-0, 6-0, 7-0) and 6 different materials (silk, nylon, polypropylene, polyglycolic acid (PGA), rapid polyglycolic acid (RPGA), and polydioxanone (PDO)). Each box of UNIFY® Surgical Suture contains 12 individually sterilized foil packs of suture and one instruction sheet. The suture is sterilized with Ethylene Oxide (EO) gas and has a shelf life of 3 years from the manufacturing date. All UNIFY® Surgical Sutures exceed the requirements of the United States Pharmacopoeia (USP) and FDA regulations. For more information or to purchase UNIFY® Surgical Suture, please visit their website at http://www.AD-Surgical.com or contact their customer service at (888) 841-8481.
Ethicon® is a registered trademark of Johnson and Johnson Inc.
About AD Surgical: As the prices of surgical products continue to skyrocket, most surgeons are looking for more cost effective solutions without compromising quality. AD Surgical is a unique company that provides the highest quality surgical essentials at very reasonable prices. All of their products are designed and developed in the United States by a team of licensed medical professionals. 90% of their products are manufactured in their own manufacturing facility, which allow them to offer top quality products at factory direct prices that are up to 80% lower than that of competitors. More information is available at http://www.AD-Surgical.com.