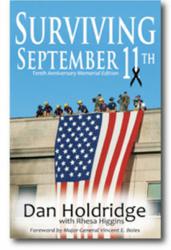 Everyone across the wall from Pentagon worker Dan Holdridge was killed in the tragic events of September 11th, 2001. Miraculously, Dan survived.
New York, NY (PRWEB) September 12, 2012
Surviving September 11th, a memoir written by survivor Dan Holdridge, is free for a limited time on Amazon as a Kindle ebook, in commemoration of the lives tragically cut short 11 years ago in the Pentagon and in New York. The Foreword to the book was written by retired Major General Vincent E. Boles.
September 11th survivor Dan Holdridge was 10 feet away from death in the Pentagon, where he was working on a construction job. Everyone on the other side of that cement wall was killed, and Holdridge miraculously survived. Ever since his experience and recovery following the fateful events of 9/11, Holdridge has devoted his speaking career to spreading the word about "appreciation," the greatest lesson he learned that day.
All Americans remember where they were on September 11th, 2001. When the Pentagon was attacked on 9/11, 184 heroes as little as 10 feet away from author Dan Holdridge were killed. Holdridge relates every detail of the attack and his suspenseful escape, as well as the angel who rescued him from the Pentagon that day. Holdridge weaves the colorful stories of family members and a country childhood into the horrible events of 9-11. Although he writes that he can never again be the same person, he has devoted the rest of his life to telling the story of his 184 colleagues, and the cigarette and clipboard that saved his life. Dan Holdridge was a prayer away from death, and his tale is as heartwarming and tear-jerking as it is riveting.
Blooming Twig Books is an independent publishing company with offices in New York and Tulsa, publishing books that matter.