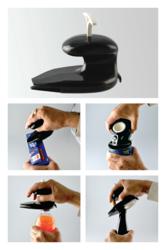 The All-Out Opener makes tasks easier while taking the pain and frustration out of the equation.
Wayne, New Jersey (PRWEB) September 11, 2012
The pain and discomfort caused by arthritis and other hand limitations can often make opening basic everyday food packages and containers difficult if not impossible. Kathleen Hanek, Director of Product Management for Maddak Inc., manufacturer of Ableware® Aids for Daily Living, told us "Many people with arthritis or diminished hand strength lack the dexterity needed to easily and painlessly open packaged food items and bottles. While these tasks may seem relatively mundane, they are something most of us need to do on a daily basis and the inability to do so can greatly compromise a person's ability to live independently. The All-Out Opener makes these tasks easier while taking the pain and frustration out of the equation."
The All-Out Opener is an ergonomically designed multi-functional device that provides the added leverage needed to open most prepackaged food items. According to Hanek, "The hand rest resembles a computer mouse and distributes the forces and pressure on the hand to minimize cramping and pain, while the T-shaped handle on top allows a person to use the opener with little or no gripping strength. And, the overall shape accommodates several different grasping positions making it easy for the user to find the method that feels and works best for them."
The All-Out Opener can be used to open various types of packaged foods and bottles. It features a blunt V-shaped prong to open box tops with glue-sealed flaps like those commonly used for cereal and pasta, a hook on the back to lift pull-tabs on cans and to poke through cellophane covered food trays, a twist-cap bottle opener and a church key/slotted opener for non-twist off (crimped) caps.
The All-Out Universal Opener, item 75339-0000, is one-size-fits-all and has a suggested retail price of $11.95. For additional product information go to http://www.maddak.com. For a copy of the Maddak catalog or a list of local dealers write, call, fax or email: Maddak Inc., 6 Industrial Road, Pequannock, NJ 07440-1993, Tel: 973-628-7600, Fax: 973-305-0841, Email: custservice(at)maddak(dot)com or visit the Maddak web site – http://www.maddak.com.
About Maddak
Maddak Inc. manufactures products that simplify the tasks of daily living – eating, drinking, dressing, grooming, bathing, toileting, etc. – for seniors, people with disabilities and people undergoing rehabilitation. The company mission is to provide quality products that enable people to maximize their independence and remain active despite any limitations they may face. Marketed under the Ableware® brand name, the Maddak product line includes over 500 products sold through medical and hospital supply centers, pharmacies, homecare centers and internet outlets. Established in 1971, Maddak Inc., headquartered in Wayne, NJ is the largest U.S. manufacturer of assistive devices, clinical modalities and home healthcare and rehabilitation products.
# # #