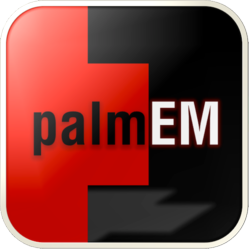 Wilmington, DE (PRWEB) September 06, 2012
palmER Worldwide today announced updates to their award winning point-of-care emergency medicine iOS and Android applications, palmEM and palmPEDi. From Level I Trauma Centers to austere third world medical clinics, palmER apps are used by tens of thousands of healthcare providers in over 90 countries and are among the highest rated medical apps available.
Featured upgrades to palmEM: Emergency Medicine Essentials Quick Reference Guide include point-of-care information on diabetic ketoacidosis, graphics to aid in the care of burn patients, updated guidelines on managing supratherapeutic anticoagulation, a Fahrenheit to Celsius conversion scale, as well as iOS 6 compatibility updates. The app covers over 150 commonly encountered emergency medical conditions and includes detailed information on medical emergencies, clinical decision rules, medication dosing, pediatric resuscitation, and more. palmEM is currently featured by Apple on the App Store in the medical category.
Upgrades to palmPEDi: Pediatric Emergency Medicine Tape include iOS 6 compatibility updates, performance enhancements, and the addition of several facilities to the app's pediatric hospital locator. palmPEDi features a weight based pediatric medication dosing and equipment reference which aids in the care of children in the emergency and intensive care environment. palmPEDi has been the #1 ranked medical app on the App Store in the United States and over 20 other countries.
According to a recent study in the Archives of Internal Medicine, over 80% of doctors will own smartphones by the end of 2012. "We are excited to be a part of the mobile health revolution and that these high quality emergency medical apps are accessible to healthcare providers all over the world," said palmER's Lola Palmer. "Updates to palmEM are provided free of charge and never require a subscription."
Pricing and Availability:
palmEM: Emergency Medicine Essentials ($9.99 USD) and palmPEDi: Pediatric Emergency Medicine Tape ($1.99 USD) are available worldwide for iPhone, iPad, and iPod Touch through the App Store, as well as for Android devices through Google Play. palmEM and palmPEDi are compatible with iOS versions 3.0 and above, and Android versions 2.2 and above. An active data connection is not required for use. Screenshots, press releases, logos, and review copies of palmER software are available upon request.
Based in Wilmington, Delaware, palmER Worldwide LLC was founded in 2011. palmER is an independent software development company dedicated to providing high quality and innovative medical applications with a focus in emergency medicine. Copyright (C) 2011-2012 palmER Worldwide LLC. All Rights Reserved. Apple, iTunes, App Store, iPhone, iPad, and iPod Touch are trademarks of Apple. Android is a trademark of Google Inc. Other company and product names may be trademarks of their respective owners.