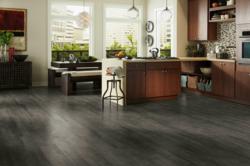 Handscraped. Bleached and whitewashed. Timeless rustic. Laminate floors can offer incredible looks with performance that will stand up to the elements – or just everyday family life.
LANCASTER, PA (PRWEB) September 04, 2012
Armstrong Laminate Flooring makes it all possible: high design, premium quality and practical value. Drawing inspiration from art, nature, fashion and culture, Armstrong transforms the latest interior trends into fabulous floors.
"Handscraped. Bleached and whitewashed. Timeless rustic. Let's not forget that laminates can offer incredible looks with performance that will stand up to the elements – or just everyday family life," said Armstrong Principal Designer Sara Babinski. "Homeowners are renovating, not purely for resale value, but for their own comfort and pleasure. There is a deep desire to have a home be a sanctuary – a refuge and reflection of our tastes and values. We want things to last."
The Improbable Becomes Practical
Three new looks in the popular Coastal Living™ laminate line include wood, metal and cement weathered by wind, sun and sea that will add an unexpected element to home décor. These truly distinctive patinas bring to mind barefoot beaches and the echo of ocean waves.
'Sea Wall' uses random widths and texture to create the effect of precast cement weathered by sand and saltwater. With a shift in color, it becomes 'Ore', reclaimed metal from the ocean floor, pitted with age for a rich patina. Inspired by driftwood with its deep grays and warm under tones, the wide planks of 'Weathered' appear to have withstood years of exposure to unrelenting winds and harsh ocean elements.
Floors with a Past
"Distressed or antiqued floors offer customers the look of antiqued visuals that work well in both contemporary and traditional settings. Sculpted or scraped floors offer the popular look of time worn floors often found in older mansion homes, upper end converted warehouse lofts and centuries old castles," said Babinski.
Rustic beauty from Armstrong Rustics™ Premium collection offers standard and wide width plank designs with rustic textures, dramatic graining and natural aging to reflect the latest trends in hardwoods in three extraordinary designs.
Once one of America's most popular hardwoods, American Chestnut is now so rare it is available only as reclaimed lumber, and at a premium cost. The character of chestnut's prominent knots and natural mineral streaks, burnished and stained by years of use, has been recreated with precise accuracy and realistic texture in this extraordinary 'Reclaimed American Chestnut' laminate.
Gorgeous and exotic, the detailed graining of 'Acacia', a richly colored African hardwood species, transforms the floor from a neutral background into a central design element. Hand-scraped texture and random plank lengths add to the realism of this globally inspired style.
Rough-hewn planks of white oak are deeply textured with knots and saw marks to create the rustic look of 'X-Grain'. This unpolished look brings to mind the simple country cabins and hand-crafted furniture of generations past while being perfectly in step with current interior trends.
More Than Just a Pretty Face
Beneath all this striking beauty and realism is quality and durability. Homeowners can live life comfortably on these floors, without living in fear of every scratch or scrape. Armstrong laminate floors are built around a solid core for stability, lasting durability and moisture protection. HydraCore™ protects the floor from surface spills and subfloor moisture, so it's at home in kitchens, basements – any room in the house.
Armstrong laminate installs over nearly any existing floor with no mess and no hassle. Lock&Fold® is a fast, easy two-step installation. Just lock and fold and the floor is ready to be lived on.
For more information, or to locate an Armstrong retailer, visit http://www.armstrong.com.
About Armstrong World Industries
Armstrong World Industries, Inc. is a global leader in the design and manufacture of floors, ceilings and cabinets. In 2011, Armstrong's consolidated net sales totaled approximately $2.9 billion. Based in Lancaster, Pa., Armstrong operates 32 plants in eight countries and has approximately 9,100 employees worldwide. Established in 1860, Armstrong celebrated its 150th anniversary in 2010. For more information visit http://www.armstrong.com.