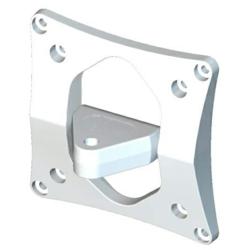 The same exceptional performance, now with an attractive white nylon finish
Saint Paul, MN (PRWEB) September 28, 2012
Reell Precision Manufacturing, a world leader in innovative small package motion control, is pleased to introduce white nylon versions of two of its most popular positioning products, the vTilt VESA Monitor Mount, and the MH12 Positioning Hinge.
The vTilt combines Reell's superior position control, and consistent long-life performance, with the easy integration of a VESA standard mounting configuration. It provides a compact and clean monitor positioning solution in an aesthetically pleasing package.
The MH12 provides reliable long-life positioning in a lightweight, durable and affordable door hinge configuration. At only 15 grams it is less than 1/3 the weight of a comparable metal hinge. Both products feature the smooth quality feel and precise position control of ReellTorq®, the world's best torque technology.
The addition of a white nylon finish makes them available for a wider range of applications.
Vice-President of Sales and Customer Service Jack Field explains, "Increasingly we are seeing applications where our products will be visible to the end user. The premium white finish is an attractive option for our customers, it allows them to provide Reell's premium quality feel and superior performance in applications where they previously had been unable to for aesthetic reasons."
For more information about the MH12, vTilt, or other Reell products and technologies please contact Reell Application Specialist Marty Kottke or visit http://www.reell.com.
Reell Precision Manufacturing provides high-quality innovative solutions that transmit torque, control angular position and protect delicate components from excessive force. Combining the world's most precisely controlled torque technology with the industry's most experienced engineering team guarantees a perfect product fit for your application. With facilities on three continents, Reell's responsive global customer service and world class manufacturing ensures exceptionally easy ordering and on-time delivery.
Follow Reell on twitter: @reell
###