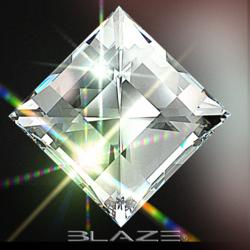 Blaze disperes more fire than any other diamond cut.
Los Angeles, CA (PRWEB) September 11, 2012
Bez Ambar, owner of Bez Ambar, Inc., is proud to introduce his latest creation, the Blaze Cut Diamond. The Blaze is a square cut diamond that signifies a dramatic departure from traditional diamond cutting.
The accepted paradigm in the jewelry industry was that the beauty of a diamond was dependent upon its brilliancy. Bez realized that Fire, the amount of flashes of colored light reflecting from the surface of the diamond, is another primary reason why people desire and treasure diamonds. Fire is what gives the stone its life. He decided to explore the possibility of designing a cut that maximizes the amount of fire in the diamond.
After a lengthy investigation of optics and many hours of calculating the relationship between the size of the facets and their relative angles, Bez came up with a design that has only thirteen facets, the number of facets that maximizes the amount of fire dispersion in a stone. He named the new cut Blaze.
"When the Blaze stones are set next to each other, they create large areas of uninterrupted brilliance infused with hundreds of colorful explosions of light," Bez Ambar states. "I believe I have created a truly unique cut. The Blaze produces maximum fire dispersion without compromising its brilliance. It is an extraordinary cut that does not stop to astound me with its beauty."
About Bez Ambar, Inc.
Bez Ambar, Inc is a wholesale jewelry design and manufacturing company founded by Bez Ambar in 1979 as Ambar Diamonds. Bez Ambar is a well-known jewelry designer and visionary. Bez is the inventor of the Princess Cut Diamond, The Quadrillion, the invisible setting, the micro-pave and most recently, The Blaze Cut. His ingenuity continues to change the jewelry industry. Bez Ambar Blaze bridal and fashion collections are breathtaking in both design and craftsmanship. They can be purchased exclusively in most high-end retail stores around the USA.
For more information, contact:
Anat Ambar
anat(at)bezambar(dot)com
213-629-9191
http://www.bezambar.com/