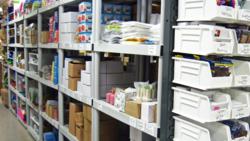 East Nashville is everything we try to be: creative, artistic, unique, eclectic, progressive, friendly and on-the-rise
Nashville, TN (PRWEB) September 05, 2012
PartySwizzle.com, an online retailer specializing in unique, upscale theme party decorations, announced their successful relocation to trendy East Nashville from Maryville, Tennessee. Their new 5,000 square foot facility, located on Woodland Street in historic Edgefield, positions the company to lower prices through bulk purchasing, streamline operations to reduce order delivery times, and maintain increased inventory levels to meet demand by banquet and reception planners.
"East Nashville is everything we try to be: creative, artistic, unique, eclectic, progressive, friendly and on-the-rise," says company president, Ray Roark. A quick tour of the site reveals a wide variety of unique products and creative ideas, along with customer comments implying friendly customer service.
And sales are definitely on the rise, with product revenues jumping more than 5.5 times in the 2nd year. Roark explains further, "We created a site that provides everything needed to plan an upscale party, for the seasoned host or first-timer, so we are benefiting from repeat business and happy customers that spread the word."
In fact, the site delivers comprehensive guidance on planning parties for the inexperienced host on everything from making a guest list to making hors d'oeuvres, complete with recipes. Furthermore, there are many original ideas and tips throughout to inspire even the accomplished event planner.
PartySwizzle.com deviates from the typical party supply website by offering quality decorations on the level of home decor products. "We hear from many customers that they shop on our site to decorate their homes, especially our nautical and beach themes," adds Carolyn Roark, co-owner and matriarch. The site features a number of themes including Hawaiian Luau, Mexican Fiesta, Nautical, Beach, Birthday, Pink Flamingo, Under the Sea, plus seasonal and color collections.
The one-stop shopping site encompasses products and ideas for every aspect of party decorating including lighting, accents, serving food & drinks, decorating the bathroom, dinner table and even the yard, all accessible by category or theme. "Our idea is to help the party planner coordinate all the details of the event to create a cohesive presentation that is engaging and fun for their guests," says Roark. Plus, shoppers have the added bonus of only having to pay for shipping once.
The company plans to reduce costs and maintain larger stock quantities for their nautical banquet, beach reception, and other event planner customers by purchasing more products in larger quantities. In addition, the company will expand product offerings in their existing categories. "But, we're most excited about creating more party types and themes; with the added space we are only limited by our imagination," states Roark.
He continues, "We started Party Swizzle in my mother's condo, which relied on her remembering where each of over 600 items was tucked away." The company began the search over a year ago with the realization that they could offer better service and increase profits with additional products, larger stock levels, and an inventory management system. They made the decision to relocate to Nashville for access to resources that a larger city offers, more flight destinations to buy new products, a larger pool of potential employees, and delivery in 1 day to more households via FedEx Ground.
PartySwizzle.com started out as a family project. Roark recounts, "I moved to Maryville when my dad was diagnosed with cancer and we thought creating a party planning website would be a fun project for the whole family." Nelson (father) helped with the original concepts and ideas, Carolyn (mother) embroiders the guest towels, picked orders, and stocked the inventory, Geoff (brother) processed the product photos, Alicia (niece) wrote the product descriptions, Karen (sister #1) is an investor, and Stephanie (sister #2) handled the shipping, while Ray organized his many years of party hosting experience into web pages.
Nashville was also a favored choice because it is the hometown of the Roark family. Carolyn is the granddaughter of A.M. Burton, who founded the Life and Casualty Insurance Company and the iconic L & C building in downtown Nashville. She was attending David Lipscomb High School when she and Nelson met in 1957.
The move in early August has already allowed the company to organize products and streamline operations to minimize errors, reduce picking time and ship orders faster. Roark also adds that, "We immediately found an excellent employee with experience in shipping and inventory management. Lonnie (Gandy) has been a big part of setting up our system at the new facility and will be a great asset as we continue to grow."
About PartySwizzle.com
PartySwizzle.com is an online retailer specializing in upscale, theme-party decorations and planning ideas for adults. In addition to detailed party preparation guides and basic party supplies, the company sells high-quality, unique decorations and home decor to offer a comprehensive event planning resource. For more information, visit http://www.PartySwizzle.com.