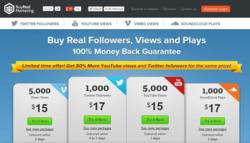 Ottawa, ON (PRWEB) September 01, 2012
Buy Real Marketing, a company specialized in web 2.0 business applications and social media marketing, recommends the micro-blogging social network Twitter as complement to businesses' customer service. Customer service through a social media coordinator is an integral requirement to improve online presence especially on most trafficked social networks like Twitter and Facebook.
Comparing Twitter to Facebook, Buy Real Marketing consider Twitter to be the best marketing extension to help reach out to customers because of its real-time network. Clients can ask questions about services, process or just clarify details about the company and they can be answered right away.
"Buy Real Marketing receives more queries on Twitter than on our customer support channels. It is easy to filter and more convenient in resolving issues that are recurring because it's public and all our clients have access to the answers," explains Grace Arreza, Social Media Coordinator for Buy Real Marketing.
The internet marketing company always has the customers in mind for every design, content and function. It is proper to make use of a channel that is accessible and more convenient to customers; especially that Buy Real Marketing also offers services under the particular social network. "Offering Twitter followers requires us to know the full potential of the network so we can provide our clients strategies and other marketing information through the Buy Real Marketing blog," says JP Bisson, Managing Director for Buy Real Marketing.
The company offers social media marketing services focused on providing Twitter followers, YouTube views, Vimeo views and SoundCloud plays. Their customer support is available 24/7 and services are offered with a 100% Money Back Guarantee, which time and again proves their mantra of giving only the best quality to offer clients.
To know more about the company's services, visit their website at http://www.buyrealmarketing.com or contact them at 1-877-435-5955.
About
Buy Real Marketing is owned by Clicking Labs. Clicking Labs is a well established internet marketing company founded in 2010 by Jean-Patrick Bisson, Diana Quartin and Jonathan Kennedy. The company specializes in driving search marketing and social media traffic, social web app development and conversion optimization. Each product or service specifically helps small/medium website owners increase online visibility and improve online sales.