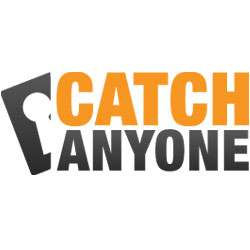 You can't argue against actual proof. The irrefutable evidence we help you obtain is permissible in court , and undeniable in personal confrontation.
Los Angeles, CA (PRWEB) September 06, 2012
Cheating spouses, crooked employees and rebellious teens beware: CatchAnyone.com is on the case. The Los Angeles based security solutions firm recently announced the launch of its website that provides the best products in covert surveillance including GPS tracking, phone and computer surveillance, and hidden cameras.
Trevor Olp, CatchAnyone.com's Director of Operations says, "Our high end covert surveillance solutions provide indisputable evidence that a situation occurred, no matter what the situation may be; Cheating spouse, thieving employee, irresponsible caretaker or babysitter, etc. We are in this business to help people out – not ruin marriages. We just want people to use our products to hold those accountable that have decided to take the unethical or immoral route."
Cheating spouses, thieving employees and irresponsible babysitters are everywhere. Statistics disclose that 40-60% of spouses are victims of cheating and an incident of child abuse is reported every ten seconds, many times by those who get paid to keep them safe. CatchAnyone.com's products provide peace of mind and irrefutable proof.
Olp goes on to say, "You can't argue against actual proof. The irrefutable evidence we help you obtain is permissible in court , and undeniable in personal confrontation". Olp's conclusion has proven true no matter what the situation: "What ever proof comes to light, even if that proof confirms nothing nefarious occurred, the peace of mind we provide is always the most valuable service we provide."
Catchanyone provides concrete facts, the same facts that a high-end private investigator would produce, but for a fraction of the price with Olp claiming "we only sell the best of the best, for the best price".
One of the most innovative aspects of CatchAnyone's business model is the research and real world testing that is done to find the best product on the market. Instead of selling ten alarm clock hidden cameras with little difference between them, there is only a select few, only the best. The research is already done, making the decision process easy knowing that only the highest quality products are the only ones available. Olp does say though "Just because we don't have on the site, does not mean we can't get it. We can provide for the full range of covert and standard surveillance solutions, don't hesitate to contact us if you are looking for something in particular."
GPS tracking devices, phone surveillance USB sticks and hidden wall clock cameras are no longer the wares of international spies and crime investigators thanks to CatchAnyone.com. These products are now available to the general public at prices that anyone can afford. Standard shipping is free and packages can be sent to an alternative address. All packages are "blind shipped" in order to maintain confidentiality. To learn more about CatchAnyone.com or to place an order visit them on the web at http://www.catchanyone.com.