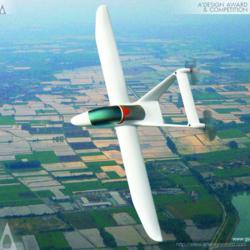 Como, Italy (PRWEB) September 07, 2012
A' Award and Competitions are happy to share that the project Flyvolt G 208 by Bruno Giardino has been granted the famous Bronze A' Design Award in Aerospace and Aircraft Design Category elected as the winner by the international judges of the A' Design Awards & Competitions within a great number of works.
More information on Flyvolt G 208
Bruno Giardino, the project leader of the awarded design Flyvolt G 208 demonstrates "Electrically powered aircraft offering comfortable and relaxed flight due to the low noise levels and the instantaneous power availability of the vibrationless engines. This kind of aircraft is ideally suited for flying schools - its similarity to a motor glider makes it complementary to gliding itself. The low weight and small size of the motors has allowed their location on the extremities of the T-tail; such a configuration ensures free and undisturbed airflow around the wings and fuselage, improving the overall aerodynamic performance. " Learn more at: http://www.adesignaward.com/design.php?ID=25278
The Bronze A' Design Award
The Bronze A' Design Award is a prestigious award given to top 10% percentile designs that has carried out an exemplary level of quality in design. The designs are judged by a panel of three different jury which is composed of Academic, Professional and Focus Group Members. The designs are evaluated with score normalization to remove any biases and are voted on aspects such as functionality, ergonomics, engineering, presentation, innovation, usability, fun details, technology, and any other specific points that could be considered, each of these points are further weighted for different jury groups.
About A' Design Award and Competitions
A'Design Award and Competitions, aims to highlight the excellent qualifications of best designs, design concepts and design oriented products. A' Design Award and Competitions are organized and awarded annually and internationally in multiple categories to reach a wide, design-oriented audience. Learn more at: http://www.whatisadesignaward.com