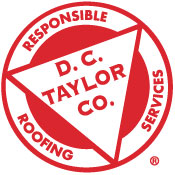 Cedar Rapids, IA (PRWEB) September 03, 2012
A white paper on the criticality of permanent fall protection was recently released by national roofing contractor D. C. Taylor Co. This objective research was compiled to provide building owners, facilities professionals, and plant engineers with information on how to provide a safer working environment for employees and contractors as they traverse the roof.
Entitled "The Importance of Permanent Fall Protection," this white paper explains what a building owner's or employer's obligation is regarding compliance with OSHA regulations, and describes what equipment and systems can be employed to help prevent rooftop falls that cause injuries and fatalities. Also included is information about the following:
1) Key considerations for an effective permanent fall protection system design.
2) The qualifications of a suitable installer.
3) User training.
As a national roofing contractor, D. C. Taylor Co.'s crews implement fall protection solutions on every roofing project they undertake. In 2006, the company began using its expertise to install permanent fall protection systems for its customers.
About D. C. Taylor Co.
D. C. Taylor Co. is a national roofing contractor with more than 60 years of experience installing, repairing, and maintaining roofs at commercial, institutional, and industrial facilities. With service centers in six states and more than 60 service and roofing crews, D. C. Taylor Co. is poised to respond to customer needs quickly and efficiently. For more information on D. C. Taylor Co., visit http://www.dctaylorco.com.