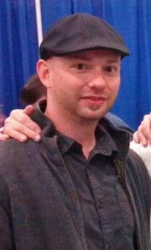 Myrtle Beach, SC (PRWEB) September 04, 2012
Interactivity Marketing, a digital marketing firm headquartered in Myrtle Beach, SC, recently welcomed John Bocook as an on-site Web Developer to add even more depth to the firm's extensive web development, design, and overall marketing services. In his new position Bocook will primarily focus on building websites, email campaigns and landing pages.
"I started building small websites, and as the web evolved so did I," said Bocook. "I find something cool on the web and want to know it was developed. If they could do it, so can I. I've built websites for a ton of small businesses, working with all kinds of clients. I've also built web based software for small and large businesses and work on open source projects when I can. The internet is more than just cool looking websites. Everything from Pizza Hut's online ordering system to project management software for large insurance companies is driven by the same technology as blogs, Facebook and twitter, just in a different way."
Bocook attended Columbus State Community College in Ohio before making his way to Devry University where he majored in Communication. Throughout the years he has managed mission critical systems, deployed state of the art software, and modified aspects of both to fit business needs, making his skill set an excellent fit for Interactivity Marketing (as well as IHotel Marketing and its array of clients.
About Interactivity Marketing
Headquartered in Myrtle Beach, South Carolina, Interactivity Marketing is a fully-integrated digital advertising and marketing agency that provides branding, print, web design and development, search engine and social media marketing, and marketing strategy services to clients across the nation. Regarded as one of the fastest growing digital agencies in the southeast, Interactivity Marketing continues to win business and break new ground by implementing quantifiable, measurable, and innovative creative marketing solutions and strategies for its clients. Interactivity Marketing will also be hosting a digital marketing conference, Interactivity Digital, in May of 2013 in South Beach, FL.