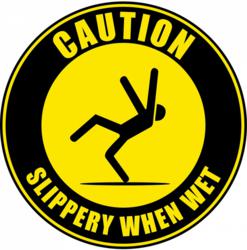 "Floor signs are a great safety tool and they are so easy to move and store away when you don't need them."
Lake Oswego, OR (PRWEB) September 05, 2012
Accidental falls from slippery floors happens all the time. Creative Safety Supply is now offering Slippery When Wet floor signs for all industrial, manufacturing and office environments. No more down time from accidental falls that cause less productivity in the workplace. The floor sign can save companies time and money by keeping employees and visitors safe. The safety signs are made of a durable material that can withstand pedestrian and forklift traffic. And as a bonus, they are easy to install with peel-&-stick. These signs are great for any 5s program as they communicate safety instructions and directional information. These signs will assure safety programs are meeting safety standards as dictated by OSHA and ANSI.
Creative Safety Supply offers a variety of pre-made floor signs. Also custom floor signs can be made in any standard size and color at no extra charge. An image of what is required for a special sign can be sent to Creative Safety Supply and they will professionally make it happen. Consider company logos when requesting customized signs.
Another popular product for any 5s program is the 5s Area Sign (Black). It also is made out of the same durable material and communicates safety to all pedestrian and forklift traffic. Companies that are looking to revamp safety programs will benefit by using floor signs in their workplace.
Wet floor signs through Creative Safety Supply are also available as stand up cones or two-sided versions that are made out of lightweight plastic for durability and portability. These signs can be moved anywhere that a food or beverage has been spilled or if the floor has just been washed. Two faces to the design easily warn pedestrians that are coming from both directions. As one custodian indicated, "Floor signs are a great safety tool and they are so easy to move and store away when you don't need them."
Please visit http://www.creativesafetysupply.com for more information about floor and safety signs. Or call toll-free (866)777-1360 for answers to all your questions.