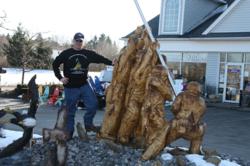 I was tired of seeing chainsaw artists always sculpting bears with their chainsaws, so I wanted to create something different
Elma, New York (PRWEB) September 01, 2012
September 7th kicks off the Made In America Store's two day 9/11 Tribute Concert Event and there will be plenty to do for the family. The Made In America Store, located in Elma, New York, is getting ready to host one of the biggest events of September and people from all over Western New York are coming to enjoy the festivities. Matt Hannah from "Insane Chain" will be performing live chainsaw demonstrations on both September 7th and 8th.
Matt Hannah is a former US Marine who came home to an economy that was less than stable. Mark Andol, Owner and Creator of the Made In America Store, offered Hannah the job of performing live chainsaw demonstration after seeing some of his artwork Hannah had created. Since 2010, Andol and Hannah have brought wooden sculptures to life at each of the store's events.
Want to see some of Matt Hannah's work? Click here to see a colorful photo gallery of Matt Hannah's work since teaming up with the Made In America Store.
Since joining the Made In America Store, Hannah has sculpted Guitar Tributes, American Eagles, Jack-o'-Lanterns, 7 Piece Benches, Underwater Shark & Coral Sculptures and so much more. At the Elma, New York location sits a giant wooden sculpture of the Flag Raising at Iwo Jima in front of the store. The sculpture received so much positive feedback that two US Marines that were actually on Iwo Jima during the Flag Raising were invited to the store to see the memorial. The memorial sculpture brought a tear to one of the Marine's eyes.
"I was tired of seeing chainsaw artists always sculpting bears with their chainsaws, so I wanted to create something different," says Hannah, whose been sculpting for the Made In America Store for two years.
Headlining the entertainment both nights will be Nashville recording artist Ricky Lee, who be joined by band member Matt Pletcher, starting at 8:30pm. On Saturday night, they'll be joined by the rest of Ricky's band, The Mustangs.
Both nights, these headliners will be preceded on stage by other talented local band
There will be plenty of food, too, including Hamburgers, Hot Dogs , BBQ Pulled Pork, and Smoked Chicken, all provided by Dale's Rollin' Smoke BBQ.
As always, active military personnel, as well as veterans, will receive a 10% discount on all store purchases.
Since opening in April of 2010, the MADE IN AMERICA STORE has re-captured the spirit of American manufacturing…selling only products that are 100% American-made and creating American jobs in the process.
It has become a movement and a symbol of America's resurgence, garnering international media attention and busloads of customers from across the country.
This special 9/11 Tribute Concert is a great way for folks to support this growing movement and to "Vote With Their Dollars"
The Made In America Store, which is located at 900 Maple Road in Elma, New York, is committed to selling 100% American manufactured products. You can visit http://www.MadeInAmericaStore.com for more information or shop our catalog of over 3,500 products from over 300 vendors that are devoted to producing USA made products. All US military personnel, both active duty and veterans, receive a discount every day. Consumers can also keep up to date news articles, events, photos and contests with Facebook, Twitter, Google+, Pinterest and FourSquare!