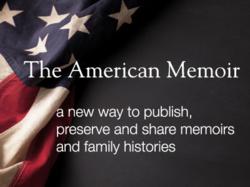 Boerne, Texas (PRWEB) September 05, 2012
Can one person in a small Texas town change how Americans share their life stories with their families and friends? Jefferson Morgenthaler thinks so. He's the founder of The American Memoir—a new member-supported organization that helps people publish, preserve and share their family's memories online and as e-books.
Traditional family histories can end up stuffed at the back of a drawer, or forgotten in a box in the attic. Family photos and documents disappear as households move and generations shift. "If you don't put your memories down on paper, they'll be gone in a generation," says Morgenthaler. "If all you do is put them down on paper, they'll be gone in two. Digital is forever, and the Web reaches everywhere."
It has long been possible for anyone to upload stories, family photos and other material to a personal website or a blog. But not everyone has their own website, and thousands of memoirs and family histories scattered across thousands of blogs have limited value. Working together, in a member-supported organization, people can weave an interlaced, overlapping fabric of memories that becomes a rich, durable repository of Americana. Online at theamericanmemoir.org, The American Memoir makes it easy for its members to build and sustain a searchable multimedia collection of text, photos, documents, audio files and videos.
"The days of the photocopied, spiral-bound memoir are gone," says Morgenthaler. "Put your memories on the Web, where they can be enjoyed for generations by people around the globe. Self-publishing a family history? Why go to all that hassle and expense for a box of paperbacks when you can easily create and share an e-book?"
Rick Millinor of Wimberley, Texas, an early fan of The American Memoir, says, "It's time to round up our family's historical stuff. For example, I don't know who has a copy of the interview that John McGuirk taped with Pappou regarding his WW II experience, or the film Uncle Dick Canfield made of Daddy Pat doing the Lindy in front of Amie's house 80 years ago. It'll be fun trying to find as much as we can." Millinor gets it: Once Daddy Pat's Lindy is uploaded to theamericanmemoir.org, it can be enjoyed by generation after generation of Millinors, and it won't be misplaced again.
There is a selfish side to Morgenthaler's project. When wearing another hat, he's an award-winning historian who has spent endless hours prowling through archives to find first-hand accounts of days gone by. Over time, The American Memoir will become an invaluable collection of Americana, a feast for historians. "Even the most mundane aspects of everyday life become important over the decades," he says. "Your great-great-great-grandmother probably thought her experiences were too ordinary to put down on paper. From a historian's perspective, she was very wrong."
There are no venture capitalists to be seen around the offices of The American Memoir—only Buzzy, a pudgy pound-pooch with a fondness for digging holes. When Morgenthaler mentions The American Memoir's "world headquarters," he's referring to his home office near a pen full of contented goats, surrounded by a Texas Hill Country farm. Buzzy keeps an eye on the white-wing doves at the feeder outside, and Morgenthaler—usually barefoot at his desk—dons an old ball cap in the afternoon to keep the sun out of his eyes. "It's not exactly Silicon Valley," he admits, "but you would be amazed at what you can do these days with an Internet connection and a little creativity."
Morgenthaler anticipates that people will use The American Memoir as a family archive—a place to preserve and share the stories, letters and photos that have been passed down through the generations. Digital storage means that the material will no longer be at risk of fading or yellowing, no longer at risk of loss to insects, rodents, fire or flood.
Using The American Memoir's search facilities and mapping features, people can easily find content about their home town or stories from immigrants whose experiences paralleled those of their ancestors. They can use personal profiles and maps to find other members near them, or near the old family homestead.
The American Memoir offers several free video tours for orientation, including a free video introduction to the website.
Online at theamericanmemoir.org, The American Memoir is a new member-supported organization that helps people organize, preserve and share their family's memories by publishing them online and as e-books. More information for media outlets is available at theamericanmemoir.org/media, or by clicking the "media" link at the bottom of the site's home page.